Jollie Junior Pace
North Little Rock, AR, 1927 - 2010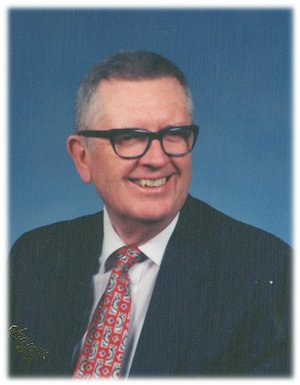 Even though he dearly loved this life, Jollie Junior Pace died on Monday, July 26, 2010 to start a more glorious life with his Lord. He was the beloved only child of Jollie and Vera Pace. He was born in Flippin, Ark. on November 29, 1927. He graduated from Gainesville High School in only three years. He attended Southwest Missouri State where he met and fell in love with Anna Mae Hare. They married on August 1, 1948. Their marriage was one to be modeled, with so much mutual love and admiration. J.J. taught agriculture to veterans. One day at a local diner, he met a man that hired him to sell insurance for MFA. This began a lifelong career in the insurance business. In 1967, he moved his family to North Little Rock. He continued working until this year because he found such joy in his work. He won numerous awards during his lifetime for his outstanding salesmanship. His greatest honor was serving as an elder at Levy Church of Christ for nearly 40 years. J.J. fought a valiant battle with cancer for the past 3 years. Although it ravaged his body, it never dampened his spirit. He developed a mutual loving relationship with Dr. Brad Baltz and his wonderful staff who treated him with tender care during his weekly chemo treatments. The family wants to thank each of them for making such a hard time easier.
J.J. is survived by his wife, Anna Mae; his four children, Louise Pace; Vicki Wilson and son-in-law, Danny; Nancy Hutchinson and son-in-law, Donnie; and Jay Pace all of North Little Rock; his foster daughter, Suzie Smith of Ft. Smith. He also was loved by his grandchildren: Jay Cowley and wife Kelley; Justin Cowley; Jennifer Pattillo and husband Matt; his great-grandchildren, Caleb, Shelby, Luke, and Ethan Cowley and Maebry Pattillo.
J.J. loved family, leaving them a wonderful legacy. He taught them to genuinely care for others; to be encouragers; to give generously; and how a loving relationship should be.
Visitation will be Thursday from 6-8 p.m. at Roller-Owens Funeral Home (501-791-7400) on JFK. Funeral will be Friday, July 30, 2010 at 11 a.m., at Levy Church of Christ. Memorials may be made to Levy Church of Christ Mission Fund, 5124 Camp Robinson Rd., North Little Rock, Ark. 72118.
Published July 28, 2010
OBITUARY SUBMITTED BY:
Roller-Owens Funeral Home
5509 John F. Kennedy Blvd., North Little Rock, AR
Phone: 501-791-7400