Monthiray Powell Brakebill Trice
Little Rock, AR, 1922 - 2010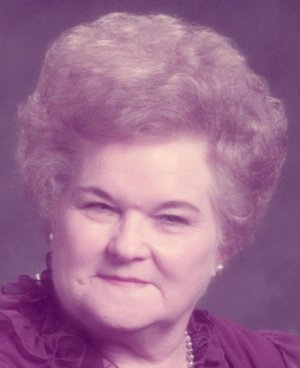 Monthiray Powell Brakebill Trice, age 87, of Little Rock, Arkansas, passed away Saturday, July 24, 2010. She was born to the late Clifford and Essie Howerton, on September 3, 1922, in Black Rock, Arkansas, and was the oldest of four siblings. She was of Baptist faith and belonged to Hebron Baptist Church on John Barrow for many years. For over forty years Monthiray was Avon Representative receiving many diamond awards for being top seller as well as recognized in the Avon President's Club as number one sales representative. She worked as Postmaster for five years in Mabelvale but continued to sell Avon. Known as the neighborhood "Notary Public", she not only notarized important papers but enjoyed stories and conversation with each person she came in contact with. She did not sign papers quickly because she got to know the people by talking and learning of their history of life and family. With all the accomplishments she made throughout her life, MOTHER was the one who put everybody else first and herself last as kids we learned to help others before you help yourself. We all knew without a doubt we were loved by our mom and dad. Monthiray was family oriented being wife, mother, and grandmother, and left behind many sayings to all those who love and respect her.
She leaves to cherish her memories, four daughters, Linda Williams (Billy), Brenda Cole, Marsha McAlister (Buddy), and Deborah Pizan (Greg); 15 grandchildren; 27 great grandchildren; 11 great-great grandchildren; and long time friends, Lewis and Wilma Pearson. She was preceded in death by husbands, Albert Powell, Cecil Brakebill, Russell Trice; and her only son, David Lee Powell.
To celebrate the life of Monthiray, the family will receive friends and share memories of her life from 6 p.m. until 8 p.m. on Wednesday, July 28, 2010, at Griffin Leggett Forest Hills Funeral Home, 10200 Hwy. 5 North, Alexander (501-455-1067). Funeral services will be held at 10 a.m. on Thursday, July 29, 2010, at the funeral home with Chaplain Pat Singer officiating. Burial will follow at Forest Hills Memorial Park. The family will be gathering at 7608 West 28th, Little Rock, Arkansas. Six of her grandsons David Powell II, Keith Cole, Richard Paul Jolly, Timothy Powell, Blake and Bailey Pizan will serve as pallbearers. To sign the online guest book, visit www.griffinleggettforesthills.com.
Published July 28, 2010
OBITUARY SUBMITTED BY:
Griffin Leggett — Forest Hills Funeral Home
1200 Highway 5 North, Alexander, AR
Phone: 501-455-1067
http://www.griffinleggettforesthills.com/