Robert C. Ellen
Texarkana, TX, 1921 - 2010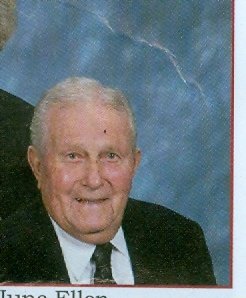 Robert C. Ellen, 88, entered the kingdom of Heaven on Saturday, July 24, 2010, in Texarkana, Texas, surrounded by his family. He was born September 17, 1921, in Hope, Arkansas to Robert C. Ellen, Sr. and Leota Waller Ellen.
Mr. Ellen was preceded in death by his parents, a young daughter, Nayann Ellen, and his first wife, Marion. He is survived by his wife of 18 years, June McCorkle Ellen, of Texarkana, Texas, two sons: Don W. Ellen (Margaret) of Laurel Mississippi, and Johnny Ellen (Gnita) of Monroe, Louisiana, and one stepdaughter, Julie Williams (Jimmy) of Hooks, Texas. He is also survived by one sister, Pat Tucker (Jim) of Hot Springs, Arkansas and two nephews. Blessed to have two families, Mr. Ellen – known also as Granddad, Uh-Uh, or Daddy Bob - was loved and adored by 10 grandchildren: Amanda, John Randall, Marion, Don Jr., Sam, Justin, Travis, Jill, Blair and Jennifer, and 17 great-grandchildren.
Upon graduating from Hope High School in 1939, Mr. Ellen proudly served his country in the U.S. Navy Merchant Marines during World War II. He then went on to earn degrees from Ouachita University and East Texas State University - Commerce. He came to be known simply as "Coach" during his years coaching football at De Queen High School (1948-1951), Arkansas High School (1951-1956) and Ouachita High School in Monroe, Louisiana (1956-1961). The great Coach touched many lives during his 13 years on the field, and he always held his players close to his heart. After hanging up his whistle in 1961, Mr. Ellen built a successful career with Olin Corporation and Georgia Pacific before retiring in 1986 as the General Manager of GP's container division in Albany, Georgia. He was a member of Sugar Hill United Methodist Church and loved his church and church family like his own. Whether it was an invitation to the White House, a note from a former player, or a handshake on the golf course from an old associate, Mr. Ellen was loved and respected by many. His days with us may be finished, but the lessons he taught us will remain forever.
The family will receive friends at Texarkana Funeral Home (Texas) Monday evening, July 26th, from 5:30 until 7 p.m.
Published July 28, 2010