Hazel V. Bennett
Stuttgart, AR, 1912 - 2010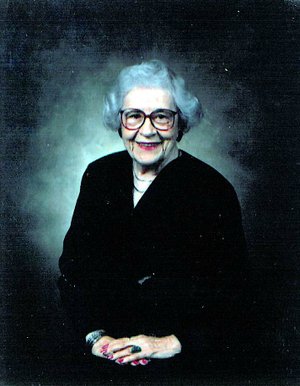 Hazel V. Bennett, 98 years old, died Tuesday, June 1, 2010, at Crestpark in Stuttgart. Hazel was born April 17, 1912, at DeWitt, Ark., to Augustus Mark Bennett and Maude Wells Bennett.
Her childhood was spent in Almyra, where she joined the Methodist Episcopal Church in her early teens. Hazel graduated from Almyra High School in 1929, entered Nurses Training School at the General Hospital in Little Rock, in 1930, graduated in 1933 with a Registered Nurses Degree, later she took a post graduate course in Operation Room Technique at Charity Hospital, in New Orleans, La. Hazel then returned to Little Rock and was the office nurse for Dr. G.W. Reagan for two years. In 1935, she joined the U.S. Navy Nurse Corps I 1935 where she received an Honorable Discharge at the end of World War II. All of her assigned duty stations were in large naval hospitals, state side, except in 1939, where Hazel attended George Washington University, Washington, D.C., to obtain college credits to become a nurse dietitian, in the Navy Nurse Corps. Her duty assignments were at the following hospitals: Naval Hospital Portsmouth, Va.; Washington D.C. hospital; Mare Island, Calif.; Jacksonville Navel Air Station, Fla.; Newport, R.I., hospital; Charleston Navy Yard hospital in South Carolina; and Bethesda, Md. Naval hospital.
After being discharged from the Bethesda hospital, Hazel moved to Houston, Texas and became a first-aid nurse in the Industrial Department of the Sheffield Steel Co. for three years. She returned to Little Rock and entered the Veterans Administration, and served in three VA hospitals: Little Rock on Roosevelt Road, Fort Roots in North Little Rock and 15 years in the Memphis, Tenn., VA Hospital. Hazel then retired from the nursing world in 1976 and moved to Stuttgart, Ark., and considered herself as an "Arkansas Traveler."
Hazel made many tours and trips with other retired nurses to Canada, Alaska, Hawaii, Mexico, Lisbon, Spain, Morocco, "Holy Land" Israel, Cairo, Egypt, Island of Bermuda, St. Thomas and Puerto Rico. She took a 32-hour ride on the New Zealand Air, "Down Under" to New Zealand and Australia. Hazel also toured India and took a ride with three other nurses in a carriage on top of the elephant. She also viewed the Taj-Mahal, a marble shrine, built in 1630. In Napel, north of India, she took a small plane ride around Mt. Everest, the world's highest mountain, and flew to Tokyo, Japan, and toured the city and saw the Emperor's Palace, also the fast Bullet Train Depot and tracks. In China, she made a big walk on "The Great Wall of China" and later ate "Peking Duck." Hazel made two trips through the Panama Canal. In 1940, she sailed on the U.S. Army Transport Ship, Henderson from Brooklyn to San Francisco, Calif. In 1985, she sailed from Acapulco, Mexico, on the Royal Odyssey cruise ship, where passengers viewed a native Mexican boy dive off the high banks ledge near the beautiful Hotel Princess.
She shopped in San Jose, Costa Rico, and then back to Florida. Hazel acquired a native dressed doll at every foreign port during all of her travels, three dozen dolls and 10 pieces of memorabilia was collected. Hazel Bennett had friends far and wide.
Three brothers preceded her in death: A.M. Bennett Jr. of Lake Village, Thomas Duke Bennett of Wichita and William "Bill" Bennett of Stuttgart. Hazen is survived by son Mark C. Bennett and wife Ruth of Almyra; and sister-in-law Waunetta Bennett of Stuttgart. Hazel has many nieces, nephews and cousins she has left behind.
Funeral services will be 10 a.m. Friday, June 4, at Almyra Methodist Church with burial following in Almyra Cemetery by Turpin Funeral Home of Stuttgart. Visitation will be from 9 a.m. until service time. Memorials may be made to Almyra Methodist Church, P.O. Box 222, Almyra, Ark. 72203, or the donor's choice. Please go to www.turpinco.com to sign the online guestbook.
Published June 3, 2010
OBITUARY SUBMITTED BY:
Turpin Funeral Home, Inc.
1107 W. 22nd St., Stuttgart, AR
Phone: 870-673-1502
http://www.turpinco.com