Charles Levearl Wright Sr.
Stuttgart, AR, 1936 - 2010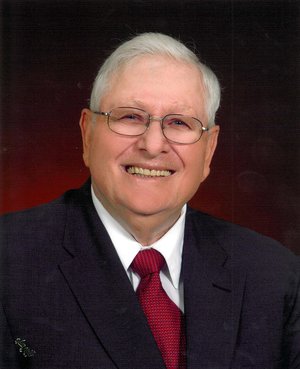 Charles Levearl Wright Sr., 73, went home to be with his loving Heavenly Father on June 4, 2010. Charles was born Sept. 11, 1936, to Roscoe and Mary Jane Wright of the Long Creek, Ark., community. He was educated at the Long Creek School and graduated from Grubbs High School in 1954 and Arkansas State University in 1971. He married Lillie Mayfield Wright, the love of his life, on June 6, 1958. They lived in Weiner until 1971, when they moved to Stuttgart. Charles accepted Christ as a 12-year-old boy and was baptized in a local pond at that time. He loved the Lord and served Him faithfully. As a child and young adult, Charles was a member of Long Creek General Baptist Church. After moving to Stuttgart, Charles was a member of Central Christian Church and, since 2001, First Baptist Church of Stuttgart. He taught many Sunday School classes and served in many leadership capacities during these years, but was, perhaps, most well-known for loving and studying the Bible and being a faithful prayer warrior. He served in the United States Army and worked at rice mills and put in wells and irrigation systems in his younger days. He retired from Riceland Foods in Stuttgart, where he worked in the inventory control department. After retirement, Charles worked for a short time for Woodman of the World insurance and as a business manager for the Arkansas State Department of Corrections. Charles enjoyed many years of working with the Boy Scouts in the Grand Prairie Area. He is survived by his children, Darlene and Mike Bailey; and grandchildren, Michael and Emily of Maumelle, Charles Jr. and grandson Christopher of Casscoe, Susan and James Dempsey and grandson Nicholas West of Ward; his brothers and sisters, Edsel and Jean Wright of Newport, Bud and Midge Wright of Newport, Verona Rowlett of Jonesboro, Dorothy and George Dehm of Jacksonville, Fla., Lula Roberts of Austin, Texas, Phillip Wright of Durant, Miss.; precious in-laws from the Mayfield family, Katherine Winters of Weiner and Ernest Mayfield of Chelsea, Okla.; and many nieces and nephews. Preceding him in death are his loving wife, Lillie Wright; his parents, Roscoe and Mary Jane Wright; sisters Lena Bortel, Thelma Holdridge, Helen Littleton and George Garland; and his grandparents, Will and Emma Wright and Patrick and Hester Roussell. Visitation will be Sunday, June 6, from 2-4 p.m. at Turpin Funeral Home in Stuttgart and funeral will be held Monday at 10 a.m. at First Baptist Church, Stuttgart. A graveside service will be held at 2:30 p.m. at Oak Grove Cemetery in Weiner, Ark. Memorial donations may be given to Stuttgart First Baptist Church Mission to Russia fund. The family wishes to express heartfelt gratitude for the excellent care provided by the Palliative Care team at John L. McClellan VA Memorial Hospital and to Charles' many friends at First Baptist Stuttgart. Please go to www.turpinco.com to sign the online guestbook.
Published June 6, 2010
OBITUARY SUBMITTED BY:
Turpin Funeral Home, Inc.
1107 W. 22nd St., Stuttgart, AR
Phone: 870-673-1502
http://www.turpinco.com