Iva Lee Webb Robertson
Morrilton, AR, 1917 - 2010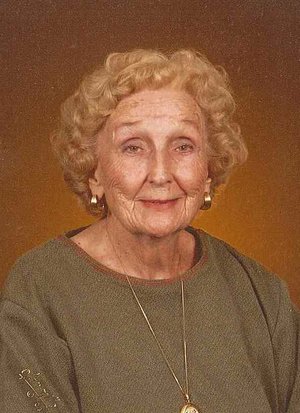 Iva Lee Webb Robertson, age 92, of Morrilton, passed away Sunday, June 13, 2010. She was born December 2, 1917 at Cleveland, Arkansas, the daughter of Grover Harry and Edna Whitford Webb. The Family moved to Morrilton and she attended the elementary school located at Arkansas Christian College, later called Harding College and then Southern Christian Home; Central Ward and Morrilton Junior and Senior High Schools. On August 7, 1933 she married Elvis Robertson. They lived on Petit Jean Mountain for two years. In 1935, they moved to Morrilton. It was through PTA activities for her three children that Iva Lee became interested in self improvement and started extension courses in 1947. After her three children reached adulthood she earned a Bachelor of Science Degree in 1963, followed by her Masters Degree in 1967. In 1959, she taught three terms at Southern Christian Home; then, Special Education at Morrilton Junior and Senior High and Perryville. 1965-1966 she taught English and World Geography. She then re-entered the Special Education field at Westside School and completed her education career as the Special Education Supervisor of the South Conway County School District. After retiring, she was elected and served as a Justice of the Peace from 1985 to 1996. She was a member of the Downtown Church of Christ, Arkansas Retired Teachers Association, and a 33 year member of Delta Kappa Gamma Society International.
She is survived by her son, Arthur Lee and wife Sharon (Parette) Robertson; two sons-in-law, Dr. Wayne Biggs and Lee Roy "Pete" Newman, all of Morrilton; seven grandchildren; 10 great-grandchildren; and five great-great-grandchildren. Iva Lee was preceded in death by her parents (1942 and 1960); her husband of 76 years, Elvis Robertson (February 1, 2010); two daughters, Betty Jean (Robertson) Newman (2006), Phoebe Ann (Robertson) Biggs (2009); her sister, Mary Ellen (Webb) Poteete (1994); and a great-grandson, Aaron Michael Stobaugh (1997).
Funeral Services will be 2 p.m., Wednesday, June 16, 2010 at the Morrilton Downtown Church of Christ with Mr. Randy Rankin officiating. Burial will be at Elmwood Cemetery by Harris Funeral Home of Morrilton. Family will receive friends 6-8 p.m. Tuesday, June 15, at the funeral home. Pallbearers are Lewis Newman, Steven A. Robertson, Jeremy Stobaugh, Keith Stobaugh, David Newman, and Ryan Robertson. The family would like to thank the kind and loving staff at Morrilton Healthcare Center. Memorial Donations may be made to Morrilton Downtown Church of Christ, 100 West Church St., Morrilton, Ark. 72110, or Elmwood Cemetery, P.O. Box 561, Morrilton, Ark. 72110. Online guestbook: www.harrisfuneralhomes.net.
Published June 15, 2010
OBITUARY SUBMITTED BY:
Harris Funeral Home, Inc.
118 South Moose Street, P.O. Box 439, Morrilton, AR
Phone: 501-354-4575
http://www.harrisfuneralhomes.net/