Edwin Childs Martin
North Little Rock, AR, 1921 - 2010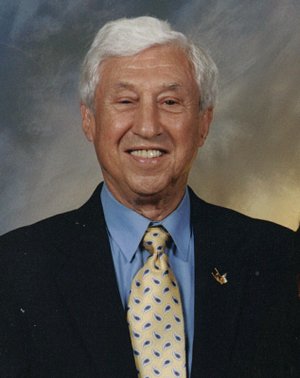 Edwin Childs Martin, born March 21, 1921 – June 20, 2010 Son of Jack Martin and Sallie Childs Martin, He graduated from Hermitage, Arkansas and attended Arkansas A&M College, Monticello Ark. , where he enlisted in Battalion B, 206th Arkansas National Guard. The unit was activated in 1941 and served in the Aleution Islands, After WWII he returned to Arkansas A&M College where he assisted in organizing a new guard unit. Co. B 217th where he worked until he retired in February 1978 as a CW-4. While in Monticello he and his wife Dot owned Monticello Fabrics. He served as Master of Eureka Lodge H4O F&AM, was on hospital board when present hospital was built, assisted in planning of the national guard armory. He moved to Sherwood Ark. In 1980 where he is a member of the First United Methodist Church of North Little Rock where he served on many committees. He is past president of the 206th CA association Setoma Club NLR, where he was twice voted Sertoman of the year. He loved spending time at the Ark. School for the Deaf, who presented him with several certificates of appreciation.
He is survived by his wife Dorothy (Dot) Hairston Martin, one son Marty Martin, (Marsha Martin) one daughter Jana Martin Landes, (Larry Landes) two granddaughters Page Martin Mc Donald, and Macee Binns, 4 grand sons Fletcher and Chase Martin and Brock and Logan Landes and 2 great granddaughters Gracen and Katy McDonald, 3 sisters Sue Stoltenberg, Ann Bailey and Jean Beverburg, all of California, several cousins and lots of friends.
Memorial Services will be held at First United Methodist Church J.F.K. blvd No. Little Rock Arkansas at 10 a.m., Wednesday June 23, 2010.
Memorials may be made to the Arkansas School for the Deaf at 2400 W. Markham Little Rock Arkansas 72205 or First United Methodist Church 6701 J.F.K. Blvd North Little Rock Arkansas 72116.

Published June 22, 2010