Hermon B. Galloway
Little Rock, AR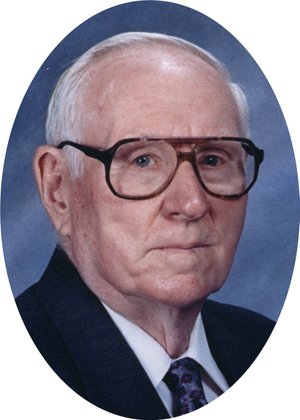 Hermon B. Galloway graduated into his next life with his Heavenly Father on Father's Day, June 20, 2010. Hermon was born on April 1, 1920 to Charles H. and Julia Todd Galloway in North Little Rock, Arkansas. Hermon was a 1937 graduate of North Little Rock High School and a veteran of World War II. He served with the 206th Coast Artillery, an Arkansas National Guard unit activated in December, 1940 and was stationed at Dutch Harbor, Alaska in the Aleutian Islands for several years. He studied radar systems at Davis, California and was a radar instructor at Fort Bliss in El Paso, Texas. In 1945 at Fort Bliss he met a Women's Army Corp enlistee named Evelyn Bowers from Brunson, South Carolina. They were married on January 23, 1946 in North Little Rock, Arkansas. Hermon's early career began as an Arkansas Democrat paperboy at Markham and Louisiana Streets. Papers sold for three cents and he kept one cent. He subsequently worked for Tuff-Nut Manufacturing Company and in 1947 began a 34 year career with Mobil Oil Corporation (at that time Magnolia Petroleum Company, now Exxon Mobil) where he retired in 1982. Hermon was a 41 year member of Geyer Springs First Baptist Church. He was a member of the Adult V Sunday School Class. Hermon held many positions at each of the Baptist churches he attended since his conversion to Christianity in 1947. Hermon had a lifelong love of sports, especially the St. Louis Cardinals and the Arkansas Razorbacks. He enjoyed gardening and fishing and would take on any handy-man task. He contributed a significant part of the labor that built the house he and Evelyn completed in August, 1959.
Hermon was preceded in death by his parents; two sisters, Bernus Price and Helen Moehrig and 12 first cousins. He is survived by his wife of 64 years, Evelyn Bowers Galloway; one sister, Joylea George and three children, Louisa Evelyn Galloway, Dr. Marvin Lee Galloway and Gloria Miller, and Charles Robert Galloway and his wife, JeanBeth Hill. Hermon is also survived by three grandchildren, Sean Robert Galloway and his wife, Kitty Galloway, Sherry Ann McKinney and her husband, Leonard McKinney, II and Shane Harrison Galloway and his wife, Chantal Marie Galloway. Also surviving are great grandchildren, Brenna Elizabeth Galloway, Kaelen Rose Galloway, Christopher Andrew McKinney, Matthew Thomas McKinney, Victoria Lane, Brittney McKinney, Leonard McKinney III, Jonathan McKinney and Drew Galloway. He is also survived by cousins, Denzal Beall and Eliza Van Cleve.
Pallbearers will be Sean Galloway, Shane Galloway and members of the Adult V Sunday School Class at Geyer Springs First Baptist Church. The celebration of life service will be conducted by Dr. Paul Sanders. The celebration of Hermon's life will be held at Roller-Drummond Funeral Home, 10900 Interstate 30, Little Rock 72209 (501) 455-5800 on Thursday, June 24, 2010 at 10 a.m. Interment will follow at Pinecrest Memorial Park. Visitation with family will be from 6-8 p.m. Wednesday, June 23, 2010 at the funeral home. In lieu of flowers, the family requests that memorials be made to Geyer Springs First Baptist Church or to the charity of your choice. Online guestbook: www.rollerfuneralhomes.com/drummond.
Published June 22, 2010
OBITUARY SUBMITTED BY:
Roller-Drummond / Southwest
10900 Interstate 30, Little Rock, AR
Phone: 501-455-5800