Ann Phipps
Little Rock, AR, 1916 - 2010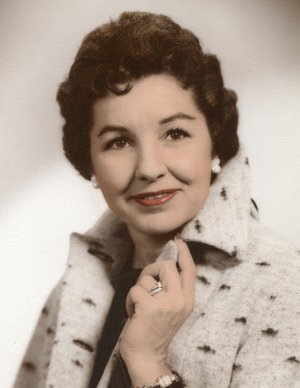 Ann Oneida "Anita" Morris Phipps, 93, of North Little Rock, passed away Sunday, June 20, 2010. She was the fourth of five children born to Marguerite Adkins and Christopher Columbus Morris on August 22, 1916, in North Little Rock, Arkansas. She met her husband to be, Woodrow Elmer Phipps, when he was a soda jerk at Argenta Drugstore at 4th and Main in North Little Rock. He said she was a little "snotty-nosed kid" who hung around and got all his clean glasses dirty! Woodrow was the son of William Elmer and Minona Rankin Phipps. Mr. Phipps had a PHD. And Mrs. Phipps had an MA--rare for a woman born in 1895! She was the grand old English and Latin teacher of North Little Rock High. Mr. Phipps was the Superintendent of Schools of North Little Rock, the State Superintendent of Education for the State of Arkansas, and also the City Attorney for North Little Rock for several terms. Woodrow and Anita, her nickname, were married on August 11, 1934, while Woodrow was still in college at Hendrix. Anita was graduated Phi Theta Kappa from Little Rock Junior College (now LRU.) She worked for Workers' Compensation for the State of Arkansas for ten years, until she gave birth to their only child, Jephrey Ann Phipps, on December 15, 1943. She spelled "Jephrey " with a "ph" to alliterate with the "ph" in "Phipps," but she never told her the reason until Jephrey was in her 40's! Dr. Woodrow Phipps became an abdominal surgeon and a Family Practitioner. He served as a Captain in the US Army in Chester, England, for two years. He remembered hearing when Glen Miller's flight went down. Anita did volunteer work with the Junior Service League of North Little Rock and was a member of a bridge club. When Woodrow took flying lessons at Central Flying Service, Anita did too; and she became an active member of the WNAA: the Women's National Aeronautical Association. They flew together to medical conventions and to every single Razorback game while Arkansas was in the Southwest Conference. They flew to one medical convention in Chicago in which Dr. Phipps was inducted into the International College of Physicians. Anita was active in campaigning for Woodrow's father in his runs for City Attorney, for Woodrow in his runs for School Board and for the North Little Rock City Council, and for the best achievement of all: they and other North Little Rock leaders passed a bond issue to obtain Hill-Burton funds for the construction of North Little Rock's Memorial Hospital. Little Rock Air Force base was new, and there was the cold war. If the Russians should bomb the bridges crossing the Arkansas river, North Little Rock would have been without hospital care. And to top it all, Anita is a top-notch mother and grandmother! Happy 93rd birthday!
Surviving her is her only child, a daughter, Jephrey Ann Phipps Hubener of 29 Greathouse Bend in Little Rock; a grandson, David Christensen Hubener and his wife, Brandy, also of 29 Greathouse Bend, Little Rock; a granddaughter, Erin Phipps Hubener Peloquin and her husband, Michael Laurice Peloquin of Austin, Texas; and four great-grandchildren: Ella Faith Hubener, Sophie Phipps Peloquin, Briggs Christensen Hubener, and Livia Hubener Peloquin.
A celebration of her outstanding life will be held at her church, First Methodist Church at 6701 John F. Kennedy Blvd., North Little Rock at 2 p.m. on Thursday, June 24, in charge of John Smith, North Little Rock Funeral Home, son of Anita's former companion, Clifford Smith, who founded North Little Rock Funeral Home on the advice of Anita's husband.
Memorials may be sent to the Lee Archer Chair in the Neurology Department of UAMS at 4301 West Markham, 72205; First United Methodist Church at 6701 JFK in North Little Rock; Trinity Episcopal Cathedral at 310 West 17th, 72206, in Little Rock; or Heifer Project at 1 World Avenue, Little Rock, 72202. Burial will be private because of the heat.
Visitation will follow the service at 29 Greathouse Bend, the last left turn up Overlook followed by another sharp left once the railroad tracks have been crossed at the end of Rebsamen Park Road near the lock and dam and the dam bridge. Arrangements by North Little Rock Funeral Home, 1921 Main Street, 758-1170. Online obituary and guest register at www.nlrfh.com.
Published June 23, 2010
OBITUARY SUBMITTED BY:
North Little Rock Funeral Home
1921 Main St, North Little Rock, AR
E-mail: mail@nlrfh.com
Phone: 501-758-1170