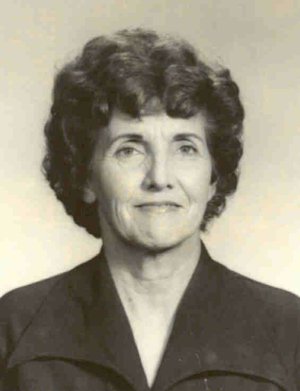 Jessie Marie Sparkman Thurman, 87, Benton, passed away Tuesday, November 2, 2010 at her home surrounded by her family. She was a committed Christian, lifelong Baptist, a dedicated church pianist, and a lover of people. Jessie was a gifted artist, an amazing musician, and "Muvver" to her family. She has been reunited with her precious daughters, Jacqueline Harrell and Bettye Ann Russell, and with her beloved parents, J.D. and Cassie Sparkman.
She is survived by her husband of 64 years, Herman "Hibe" Thurman, and her daughter, Leigh Massey of Benton. Jessie was blessed by nine grandchildren: Lynn Roberts (Benton), Ann Spraddlin (Cabot), Michelle Sexton (Springdale), Patti Jones (Conway), Michael Harrell (Tulsa, Oklahoma), Pamolee Milligan (Huntsville, Alabama), Geoff Russell (Huntsville, Alabama), Anna Markham (Benton) and Marie Massey (Lakeland, Florida). She had 21 great-grandchildren, and five great-great-grandchildren.
The family wishes to express appreciation to her caregivers, Rita Stowe and Debra Taylor, who have given her excellent care and loving support. Also, Saline Memorial Hospice and all the dedicated caregivers, especially Troy, Cathy, Paula, and Shilonda, have our heart-felt thanks. Visitation will be from 6 to 8 p.m. on Thursday, November 4 at Ashby Funeral Home. Funeral services will be 3 p.m. on Friday, November 5 also at Ashby Funeral Home. Burial will follow at Forest Hills Memorial Park. Memorials may be made to Saline Memorial Hospice in lieu of flowers. The address is Saline Memorial Hospice, 23157 Interstate 30, Bryant, Ark. 72022. On-line guest book at www.ashbyfuneralhome.com.
Published November 4, 2010
OBITUARY SUBMITTED BY:
Ashby Funeral Home
108 West Narroway, Benton, AR
Phone: 501-778-2544