Kate Adeline Embry-Martin-Hoover
Hot Springs, AR, 1909 - 2010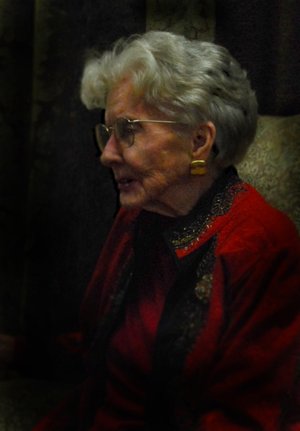 Kate Adeline Embry-Martin-Hoover, age 100, a resident of the Fountain Lake community, Garland County Arkansas, passed away on November 1, 2010 in Hot Springs, Arkansas. Ms. Kate was born at Board Camp, Arkansas in the front parlor of her grandmother's home on December 9, 1909, the same room in which her mother was born. She was the oldest of four children. When it was time for her to attend high school she moved to her grandparent's home in Mena, Arkansas where she helped milk cows and keep house before the school day began. Kate graduated Valedictorian of her class of 1924. Having taken a "Normal" course, Kate began teaching school in the small community of Highland near Cherry Hill. It was there she first met Wendell Hoover. She said her heart skipped a beat when she saw Wendell for the first time and they dated for some time. Later, she married John Martin and moved away from the Cherry Hill area. After 17 years their marriage ended. Kate worked at the Red River Arsenal during and after World War II, working with early computer records. In 1955, Wendell came to see her again at her home in Nash, Texas. She said it was like they picked up where they left off and after several months she married Wendell and his three children. At the age of 45 she became a mother, a preacher's wife and a Methodist. Becoming a mother at that age was no easy task and becoming a minister's wife was a challenge as well. Using one of her favorite sayings, she simply "backed her ears and plowed the row."
Kate is survived by daughters Gail Burton of Jacksonville, North Carolina, Deborah Kolden of Chicago and son, Howard Hoover of the Fountain Lake community; Grandchildren Kelly Kott, Karen Burton, Christopher Kolden and Leia Kolden; great-grandchildren, Stephen Kott, Ashleigh Byrne, Samuel Kott, Shayne Byrne, Kayne Byrne, Seth Kott, Tara Kott and Oliver Wade-Kolden; great-great-grandchildren, Mya Byrne and Aiden Edward Byrne; Nephews Fred Embry, Jim Embry, Tom Embry, Sam Martin and Jim Martin; her faithful companion Cody, her lap dog; and cousins, Beth Boone and John Pickett.
A memorial service officiated by Reverend Fred Hunter will be held at Oaklawn United Methodist Church, Hot Springs, Arkansas on Friday, November 5, at 2 p.m. A private family interment will be at Mena, Arkansas on Saturday morning. Arrangements for burial were made through Beasley Wood Funeral Home of Mena. Honorary pallbearers include Christopher Kolden, Stephen Kott, Sam Kott, Seth Kott, Shayne Byrne and Kayne Byrne. In lieu of flowers, Kate's request would have been memorials given to your chosen church or charity. Kate lived her life with deep faith, determination and unconditional love. She was a woman filled with grace and humility.
Published November 4, 2010
OBITUARY SUBMITTED BY:
Beasley-Wood/Billingsly Funeral Home
611 Janssen Avenue, P.O. Box 317, Mena, AR
Phone: 479-394-1310