Arthurine Armour Harrison
Little Rock, AR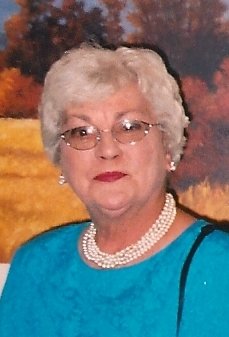 Into the hands of our merciful God, Arthurine Armour Harrison, 71, departed the bonds of this earth early Sunday, November 7, 2010, "All Saints Sunday." Preceding her in death, were her parents, Arthur Samuel Armour, Addie Ethel Armour Brumley, stepfather, James A Brumley, Sr., and stepbrother Terry Brumley, all of Many, Louisiana. Also preceding her was her husband of 49 years, H.L. "Kenny" Harrison, who adored her. Arthurine leaves a daughter, Rhonda Harrison Hestir (Mike), of Heber Springs, Arkansas, and her beloved only grandchild, Harrison Michael Hestir, who called her "Grandy". She also leaves a sister, Claudine Armour Mizell (Roy) of Many, Louisiana; a stepbrother, James Alfice Brumley Jr. (Lanelle) of Walkerville, Louisiana; a stepsister, Marjorie Ebarb of Houston, Texas; and two special brothers-in-law, Ray Harrison (Nancy) of Livingston, Texas, and Jerry Harrison (Whitney) of Woodville, Mississippi, as well as many cousins, neices and nephews. She also leaves her special canine companion, Pebbles, who will now have Harrison Michael Hestir as her master.
Growing up in Louisiana, Arthurine graduated from Many High School in 1957, and with a degree in education from Louisiana Tech University in 1960. There she met Kenny Harrison, and they were married in August of 1960, and they lived in Lake Charles, Louisiana. Arthurine began her career teaching early elementary students. She continued her education by earning a Masters degree at Stephen F. Austin University in Nacogdoches, Texas. Their only child, Rhonda was born, in January of 1970, the family moved to Little Rock. Touching lives through her leadership was Arthurine's life's work. Serving as Headmistress 16 of her 19 years at The Cathedral School, "Mrs. Harrison" lovingly led hundreds of children, parents and faculty. More recently, she poured her heart into her position as Director of Volunteers at Pinnacle Mountain State Park, and as a trainer for the Arkansas Department of Human Services Division of Volunteerism, and was rewarded with many accomplishments, not the least of which was innumerable deep friendships. Arthurine's self-proclaimed "therapy" was working in her yard. She loved flowers, and grew a vegetable garden for many years. She was an avid reader, and enjoyed attending musical and theatrical events, as well as supporting her favorite causes, such as the annual Pinnacle Mountain "Rendezvous", and The Cathedral School. Arthurine's family is exceedingly grateful for the expert and loving care she received from Dr. Konstantinos Arnaoutakis, and his staff, especially Anita and Amanda, and the Medical Oncology Department of the Winthrop P. Rockefeller Cancer Treatment Institute at UAMS. We are grateful for the professional care of the Infusion Center nurses at UAMS. Special thanks are extended to Dr. Reed Thompson and his Pallative Care Team, and to UAMS Hospital nurses Linda S. and Todd, who provided comfort and care to both Arthurine and her family her last day there. Praise and thanks go to Dr. Wyatt and the angels on staff at Arkansas Hospice Center, especially Kathryn, Cynthia, and Patricia. Arthurine was a parishoner of Trinity Episcopal Cathedral for over 30 years. Deep appreciation goes to the caring clergy from the Cathedral who were vigilant in their care of Arthurine, especially since beginning her battle with cancer in May of this year, offering constant phone calls, prayers, visits and encouragement.
A service to celebrate the life of Arthurine will be held at 10 a.m., Wednesday, November 10 at Trinity Episcopal Cathedral, 310 West Seventeenth St., Little Rock, Arkansas, 72206 Reception following in Morrison Hall. Memorials may be made to the Winthrop Rockefeller Cancer Research Institute at UAMS, the Susan G. Komen Foundation, The Cathedral School, the Humane Society of Central Arkansas, Arkansas Hospice Center or Partners for Pinnacle. Links and addresses available at ruebelfuneralhome.com.
Published November 9, 2010
OBITUARY SUBMITTED BY:
Ruebel Funeral Home
6313 West Markham Street, Little Rock, AR
Phone: 501-666-0123
http://www.ruebelfuneralhome.com