Adeline Davenport Barker
Little Rock, AR, 1920 - 2010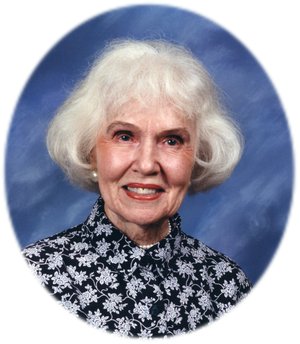 Adeline Davenport Barker of Little Rock, Arkansas, went to her Heavenly home in the early morning of Tuesday, November 9, 2010.
She is survived by her loving and ever faithful daughter, Donna Carlson and son-in-law, Steven Carlson of Little Rock; her grandson, Chad Carlson and his wife, Amy, of Little Rock; her granddaughter, Jennifer Thomason and her husband, Ben, of Charlotte, NC; two nephews, Harold Davenport of Little Rock and James "Buddy" Davenport of New Smyrna Beach, FL; her very special cousins Louise Bryant of North Little Rock and Geneva Harwell of Little Rock, and numerous extended family. To her three great-granddaughters: Adeline Clare Thomason and Emily Jane Thomason of Charlotte, and Julia Kate Carlson of Little Rock.
She bestows a heritage of noble character, strength and dignity, and selfless kindness. Adeline was born in White County, Arkansas, August 9, 1920, to Arabelle Simpson Davenport and Bert Otto Davenport. She was the sister of James Davenport and his wife, Rachael. She married her sweetheart, Charles Harrison Barker, whom she affectionately called "Barker", in 1941. They were married 39 years until his death in 1980. She retired as 2nd Vice President and business development officer of Twin City Bank in North Little Rock in 1985. She first joined the bank in 1943, but left for a while to start a family. She returned in 1956 to really begin her banking career. She sponsored the "Johnny Appleseed" savings account for children and pioneered the Autumn Age Account for seniors. But it was her personal care and attention that made her so special. In recognition of her many accomplishments, December 10th was declared Adeline Barker Day in North Little Rock. She didn't slow down after retirement. She managed the finances of her daughter's business for the next 17 years. She started each day with her Bible and in prayer. She enjoyed walking at the mall, "taking her exercise", and playing chauffeur to her friends. She was proficient in math and finance, and equally skilled with word puzzles. She was a lifelong member of Calvary Baptist Church and active in her Sunday School Class. She was always a great listener and was eager to help others. Her family was her pride and joy. She showed her love, was fast to listen, and eager to give. She was meticulous about the details of life. Seldom was an item out of place. Her keen attention to detail was most noticeable in her relationships. She was always quick to observe in others what others may have missed. Her heart for others was demonstrated not only in her words, but moreover in her actions. She was faithfully reliable and always on time (and often early). When it came to a task, she was the first to arrive and the last to leave. She took personal responsibility and pride in every pursuit, seldom faltering. Her hands were rarely idle. She was constantly about finding opportunity for improvement in herself as well as others.
A visitation with the family will be held on Thursday, November 11th between 4:30 p.m. and 6:30 p.m. at Roller-Chenal Funeral Home (501) 224-8300. A memorial service in celebration of her life will be held on Friday, November 12th at 11:30 a.m. at Roller-Chenal. In lieu of flowers, the family requests that any memorial gifts be made to Friendly Chapel FLAME at 116 South Pine, North Little Rock, Ark. 72114 or Calvary Baptist Church Little Rock Ministry Endowment at 5700 Cantrell Road, Little Rock, Ark. 72207. Online guestbook: www.rollerfuneralhomes.com/chenal.
Published November 11, 2010
OBITUARY SUBMITTED BY:
Roller-Chenal Funeral Home
13801 Chenal Parkway, Little Rock
Phone: 501-224-8300
http://www.rollerfuneralhomes.com/chenal