O.C. Pickens
Jonesboro, AR, 1916 - 2010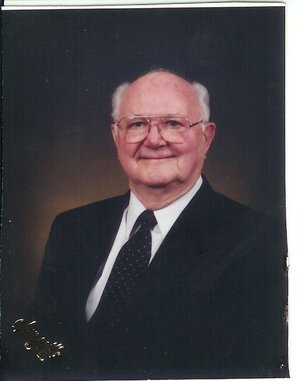 O.C. Pickens Jr. passed away peacefully at his home surrounded by his family, Monday November 22, 2010. "Daddo," as he was affectionately known to his family, was 94 years old. Mr. Pickens was born to O.C. Pickens, Sr. and Brilla Croom Pickens on January 5, 1916 in Clover Bend, Lawrence County, Ark. Mr. Pickens worked first as a school teacher, then later as a sales manager for various companies, He was the manager of the Pic-Walsh freight Company in his hometown of Jonesboro for many years. Mr. Pickens life was devoted to the church, his wife, Catherine, his family and friends. He was an elder for many years in the Downtown Church of Christ in Jonesboro. "Daddo" was 27 years old with a wife and two small boys at home when, in 1943, he was called to service in World War II. His artillery company immediately found itself in the thick of many battles, most notably the "Battle of the Bulge."
Mr. Pickens was preceded in death by his mom and dad, and brothers, Hank, Ebb and Don Pickens, and his cherished grandson, Stephen McDaniel. He is survived by his loving wife of over 74 years, Catherine "Toots" Blanton Pickens, sons and daughters-in-law, Jim and Sue Pickens of Little Rock and Dick and Paula Pickens of Jonesboro; daughter and son-in-law, Cathy and Larry McDaniel of Paragould and a brother, John of Edmond, OK. Six grandchildren Mike Pickens of Little Rock, Sandy Pickens Noble of Rogers, Karen Pickens Jones, Paul and John Pickens of Jonesboro, Susan McDaniel Brittingham of Paragould and 11 great-grandchildren.
The family wishes to give special thanks to Drs. Danny Grubbs and Anthony White; as well as to the special people who were his caregivers for the last few weeks of his life; Rachel Perry, Betty Proctor and Alice Guy. Thanks also to the staff of NEA Baptist Hospital and Extended Home Health Agency. Those wishing to send memorials, please consider: Arkansas Children's Homes in Paragould and Morrillton. Visitation will be at the Langford-Bookout Funeral Home from 6 till 8 p.m. on Tuesday Nov. 23, 2010. Funeral Services will be at Langford-Bookout Funeral Home at 1 p.m. on Wednesday, Nov. 24th with Kenneth Gossett and Winston Burton officiating. Burial will follow at Jonesboro Memorial Park. Grandson's Mike, John, and Paul Pickens, James Brittingham, Keith Noble and Mark Jones will serve as pallbearers. Friends and family may leave remembrances at: www.langford-bookoutfuneralhome.com.
Published November 23, 2010