William R. Walker
Fort Smith, AR, 1924 - 2010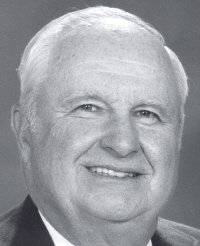 William R. Walker, 85, of Fort Smith departed this life on November 21, 2010 in Fort Smith. He was born in Fort Smith, Arkansas on December 19, 1924, attended Fort Smith Schools, he was a graduate of University of Arkansas with a BSBA, after serving three years in the U.S. Navy during WWII in the Pacific. He started his career in 1950 with Stephens Brothers Construction doing work for a Gas Distribution Company in eastern Arkansas. In 1954 he was employed by Arkansas Oklahoma Gas Company where he later became President. In 1978 he left the Gas Company and became the fulltime President of Stephens Production Company. His work career lasted over 60 years as he was still coming to the office until late August 2010. Much of his career was spent exploring for Natural Gas in Arkansas and Oklahoma. He served on the Board of Stephens Inc. for many years and he also served at various times as President of St. Edward Development Corporation, St Edward Board of Trustees, Fort Smith Chamber of Commerce, University of Arkansas Foundation at Fort Smith, Boys Club and Harbor House and served on numerous Boards for the Salvation Army, Town Club, Hardscrabble Country Club, State Chamber of Arkansas, and Merchants National Bank. His lifelong hobbies were hunting (especially quail), fishing and gardening.
He is survived by his wife of 60 years, Barbara J. Walker, one son, Bill Steve Walker and wife Lynn of Fort Smith; one daughter, Jane Klein and husband Henry of Memphis, Tennessee, five grandchildren, Max Klein, Alex Klein, Betsy Walker, Lee Walker, and Bill Karsten IV. He was preceded in death by his parents S.R. and Anne McCarty Walker.
Funeral Mass will be Wednesday, November 24, 2010 at 10 a.m. in the Immaculate Conception Catholic Church with burial to follow in Holy Cross Cemetery all under the direction of Edwards Funeral Home. Pallbearers will be Max Klein, Bill Karsten IV, Greg Smith, Doug Smith, Billy England, Jim Alexander, Emon Mahony, Rick Beauchamp, Dudley Flanders and Dr. Neil Crow, Jr. The family will greet friends at Edwards Funeral Home on Tuesday evening from 5-7 p.m. Memorial Contributions may be made to St. Edward Mercy Medical Center or Immaculate Conception Catholic Church Landscape Fund. To sign an online guestbook visit www.edwardsfuneralhome.com.
Published November 23, 2010
OBITUARY SUBMITTED BY:
Edwards Funeral Home
PO box 3, Fort Smith, AR
E-mail: edwardsfh@yahoo.com
Phone: 479-782-8203