Lovie E. Rogers
Jacksonville, AR, 1923 - 2010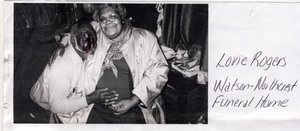 Lovie E. Rogers was born April 4, 1923 in Holly Springs, Miss. to Charles and Geneva Howell. Lovie was the eldest of 11 siblings. She was preceded in death by her parents and siblings, along with three children. Lovie fell asleep in death on November 21. She was faithfully served Jehovah and neighbor at the Kingdom Hall of Jehovah's Witness in Jacksonville.
Lovie leaves to cherish her memory Johnnie Bradley of Jacksonville, Arthur Rogers, Jr. (Vernola) of Forrest City, Mary Rogers and Evarn Hutchins of Little Rock. She also leaves a host of grand, great and great-great grandchildren, along with many other relatives both fleshly and spiritual.
Arrangements: Watson Northcrest Funeral Home, 1801 Maple, North Little Rock. 501-812-5303. Visitation was Friday, November 26, 8-9 p.m. at the funeral home. Memorial services: Saturday, November 27, 1 p.m. at the Kingdom Hall, 2630 W. Main St., Jacksonville.
Published November 27, 2010