O. V. Harrison
Little Rock, AR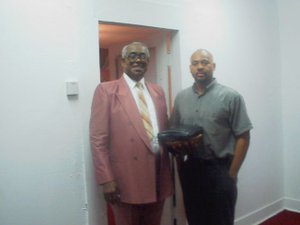 The Reverend O. V. HARRISON, 83, of Little Rock was transfixed to the pulpit of eternity on Friday, Nov. 26, 2010, with his loving family at his side. He served honorably in the U.S. Army in Germany during the Korean War. He graduated from Arkansas Baptist College and from Jackson Theological Seminary with a Master's in Theology. Rev. Harrison began his pastoral career at Mt. Vernon Baptist Church (now Gaines Street BC); was a former pastor of First Baptist, 9th and Calhoun; organized; organized Mercy Seat BC; in later years, founded the Doctrine of Jesus Christ Missionary Baptist Church; and had pastored the Aijalon MBC in Detroit, where he also taught at the Bible College. He was a 16-year office-holder of the National Baptist Convention of America where he served as Chairman of the Enrollment Committee.
Left with cherished memories of Rev. O.V. are his adoring wife, Betty Hansberry-Harrison; sons, Ollie Harrison II, the Rev. James Thrower, and Larry Martin all of Little Rock; daughters, Elaine West, Robin Hicks, Lola and Mary Thrower (all of Little Rock), and Maryann Horton of Houston, Texas; sister, Loretta Henderson of Boley, Okla.; 13 grandchildren; and 7 great-grandchildren.
Arrangements are incomplete and have been entrusted to Walton GateWay Funeral Chapel, "Your Entrance to Eternity", 2405 South Gaines Street, 72206, (501) 376-7188.
Published November 28, 2010