Yola Spiotta Coco
Hot Springs, AR, 1918 - 2010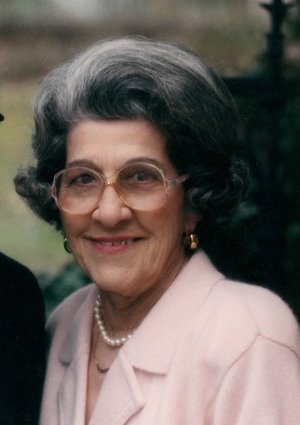 On Monday, Sept. 13, 2010, in Hot Springs, the world lost Yola Spiotta Coco, the first lady of the Vincent A. Coco family, as she passed into eternal life, joining her husband, her father, her mother, her sister and all the human family who live beyond death.
She was preceded in death by her parents; sister; and husband, Vincent. She is survived by her four children, Dr. William V. Coco, New York City, Nina Coco Bennett, Little Rock, Marty and Janie Coco, Hot Springs, Dr. M. Katie Coco and Pamela Brimley, Salt Lake City. Also surviving her brother, Dr. Eugene J. Spiotta, Memphis; and grandchildren, Barb and Rick Hatfield, Ted Fredrich, Little Rock, Vince Fredrich, Camden, Martin and Cathy Coco, St. Louis, Katie Coco, Washington D.C., Annetta Coco, Boulder, Colo. She also leaves behind six loving great-grandchildren.
The angels assisting and caring for her in this difficult passage of the extended 15 months at the end of her life include, Nancy Miles, Karen Pinkston, Mary Riley, Rhonda Anderson. Also, Sandra Reynolds. And the staff of Arkansas Hospice.
Yola's parents were Guido and Mary Spiotta, who emigrated from the Piedmont region of Northwestern Italy in the late 19th Century, passing through Ellis Island on their way to the Italian community in Memphis, Tenn., where Yola was born Jan. 27, 1918, and grew up with her siblings, Esta and Gene. In 1942, while working as a secretary for Film Transit in Memphis, she met and married Vincent Anthony Coco, a most honorable man, and soon to be great Dad, while he was working at Tennessee Brewing Company, a regional brewery. The couple soon moved to Little Rock, where Vince, following his ambitious nature, opened his own beer distributorship, selling minor brands. In 1964, Vince had the offer of a lifetime to take over an Anheuser-Busch distributorship in his home town of Helena. Yola and Vince and family moved to Helena where she made many new friends through her bridge club and her devotion to St. Mary's Catholic Church, which she faithfully attended with Vince. Yola and Vince traveled together all over the world, including visits to the Great Wall of China, all of Italy, and many more countries, such as Thailand, Morocco and Japan.
Yola's greatest pride was her children and grandchildren's successes: Bill's New York theater career, Marty's following in the footsteps of Vince's beer business, Katie's well-respected therapy practice in Salt Lake City, and Nina's love for her three children and four grandchildren. Another great pleasure for her were her six great-grandchildren, always wanting to "nourish" them.
Yola was also an avid St. Louis Cardinals baseball fan, for whom her grandson Martin works, never missing a televised game. In 1997, Vince died, and by 2004, she decided to move to Hot Springs to be near family. There she found a new church family at St. Mary of the Springs and many, many new friends at Country Club Village, where she was affectionately known at the "Queen" of the daily cookie table group; and at Christmas she would distribute as many as 100 tins of butter cookies, remarking, "I don't know where to stop. I have so many friends." Yola possessed an inherent sense of beauty, including the decorative arts, and in the creation of her several homes in Little Rock, Helena and Hot Springs, she furnished her family with environments of quiet, classic elegance. Like her warm gifts for friendship, Yola leaves her children and all who knew her, with an astonishing example of grace and wisdom, along with a sense of beauty and the Divine, which shall sustain them all through their lives. She was a woman for all seasons. "Many daughters have done nobly. But you excel them all." Proverbs: 31.
Memorials for Yola: Please give to an immediate person in need or to Yola's favorite charities, St. Jude Research Hospital, 501 St. Jude Place, Memphis, Tenn. 38105 or Grief Recovery Center, founded by her sister-in-law, Sr. Rita Maria, SCN, 4010 Jamestown Ave., Ste. 101, Baton Rouge, La. 70808. Guests register at www.caruth-hale.com.
Published October 3, 2010
OBITUARY SUBMITTED BY:
Caruth-Hale Funeral Home
155 Section Line Road, Hot Springs, AR
Phone: 501-525-0055
http://www.caruth-hale.com