James Wilson Rainwater
Little Rock, AR, 2010 - 2010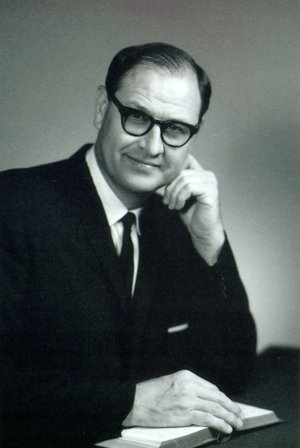 Reverend James Wilson Rainwater, 90, died October 9th, 2010. Jim was born in Walnut Ridge, Arkansas, one of four children of the late R.O. and Elizabeth Rainwater. His long career was devoted to the Christian Church (Disciples of Christ) as a pastor and then as Regional Executive Minister for the Christian Church in Arkansas, a position he held for 20 years prior to his retirement in 1985. After earning a bachelor's degree from Transylvania College in Lexington, Kentucky, he attended seminary at Lexington Theological Seminary and earned a Bachelor of Divinity Degree from Vanderbilt University of Nashville, Tennessee. He served student pastorates in Benton, Arkansas, as well as in communities in Tennessee and Kentucky. These were followed by full time assignments at West End Christian Church in Danville, Virginia, First Christian Church in Blytheville, Arkansas, McLemore Avenue Christian Church in Memphis, Tennessee, and First Christian Church in Fayetteville, Arkansas. After his retirement in 1985, he served as interim Regional Executive Minister for the denomination's Louisiana Region before accepting interim pastorates in Louisiana, North Carolina and Arkansas. In 1969, he received an honorary Doctor of Divinity degree from Phillips University in Enid, Oklahoma. He drew his strength from sharing his activities and life with his wife of 68 years, the former Sarah Marie Rozzell. They grew up together in Little Rock where Jim graduated from Little Rock High School (now Central) and Little Rock Junior College (now UALR). Those who knew Jim were touched by his optimism, warmth, kindness and generosity. His family will remember him as a loving husband, father, brother, grandfather, and great-grandfather. He always maintained a weakness for his grandchildren and had a special devotion to his grandchildren and their children.
Jim was preceded in death by his older brother, Robert and his beloved wife, the former Sarah Marie Rozzell. He is survived by his son, Dr. Joseph O. Rainwater (Damaris) of Denver, Colorado; his daughter, Ann Elizabeth Tucker (Eugene) of Hot Springs, Arkansas; a brother, Dr. Sloan Rainwater (Faye) of Little Rock; a sister, Martha Lewis of Bend, Oregon; four grandchildren, Jay (Normandie) Rainwater of Nederland, Colorado; Mark Tucker of Little Rock; Neil (Dana) Tucker of Frisco, Texas and Robin (David) Trasen of Hillsboro, Oregon and eight great-grandchildren; a special cousin, Phyllis Newton of Little Rock and numerous nieces, nephews and other family members.
The family would like to thank the staffs of Chenal Heights Nursing and Rehab and Arkansas Hospice Home Care for their compassionate support provided to Jim and Sarah Marie over the past year. Funeral arrangements are under the direction of Griffin Leggett Healey and Roth. A celebration of Jim's life will be held at 10:00 a.m. October 13th, 2010 at Pulaski Heights Christian Church, 4724 Hillcrest, Little Rock. Reverend Holly Patton will officiate with Reverend Sharon M. Coote, Reverend Richard E. Hamilton and Reverend Barbara Jones assisting. Burial will follow at Pinecrest Memorial Park in Alexander, Arkansas. A gathering of family and friends will be held at Pulaski Heights Christian Church in Hunter Hall from 9-10 a.m. prior to the service. In lieu of flowers, memorials may be sent to the James and Sarah Rainwater Educational Fund, Great River Region of the Christian Church (Disciples of Christ), P.O. Box 192058, Little Rock, Arkansas 72219 www.griffinleggetthealeyroth.com.
Published October 12, 2010
OBITUARY SUBMITTED BY:
Griffin Leggett Healey & Roth
5800 West 12th Street, Little Rock, AR
Phone: 501-661-9111