Eloise Abernathy Hamilton
LIttle Rock, AR, 1910 - 2010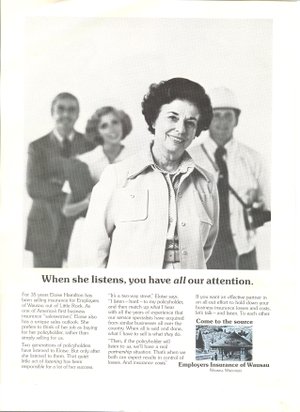 Eloise Abernathy Hamilton age 100, died Monday, October 11, 2010. She was born July 30, 1910, in Fordyce , Arkansas , to the late Sterling and Louise Abernathy, Jr. Louise grew up in Fordyce where she graduated from High School and was class Valedictorian. She and her best friend Frances Benton Meadors both recently celebrated their 100th birthdays and were honored two years ago at a banquet for being the "last graduates". They both were Grand Masters of the Fordyce on the Cotton Belt parade. Eloise attended Ouachita College , was a member of the Gold Tiger Club and established the Abernathy, Hamilton, McMurray Scholarship Fund. Eloise worked while her husband, Herbert was in the military services and never looked back. She began her fulfilling career with the Farmer Employer's Mutual Insurance of Warsaw where she worked from 1940 with her retirement in 1975. Employer's Mutual liked having a woman sales representative, unheard of in casualty insurance fields in those years, and featured her in a full page ad in Time, Newsweek and Sports Illustrated magazines. The feature headline was "When she listens, you have all of her attention." Eloise was quoted in the article as one of America 's first business insurance saleswomen. She was a member of various civil groups including Little Rock Departmental Club, Zenith Study Club, Book Reading Club, Pine Area Garden Club, Greater Little Rock Ouachita Baptist College Club, Woman's City Club, Capt. Basil Gaithe Chapter of the D.A.R., and Baptist Medical Auxiliary where she served as president for one year. She held offices in all of these clubs and represented D.A.R. at new citizen's naturalization ceremonies for 20 years. Eloise was a member of the Senior Departmental Club, member of the Scattered Seeds Garden Club, and a member of Riverdale Country Club where she served as the club's first debutant chairman. Eloise also found the time to be a wonderful mother to her only child Julie Anne Hamilton Warmouth. She attended and acted as a chaperone for all school and church activities involving her daughter and her friends. Her home was always open to her daughter's friends, Eloise and Herbert's friends, and their beloved families. Her hobbies were reading, working crossword and other puzzles, knitting, hiking, fishing and later years playing games with her grand and great-grandchildren. Eloise had a special impact on Pulaski Heights Baptist Church. She taught Sunday School for over 60 years and had a class named in her honor. She served in practically every committee in the church and was a member of the building committee where the present sanctuary is located. She and her husband helped organize the first adult Training Union Group for the church and was in charge of their daughter's Training Union group. She was also a Trustee of the church, member of the Finance Committee, and Religious Education Committee. Eloise was a wonderful daughter, wife, mother, grandmother and great-grandmother.
She was preceded in death by her parents, her brothers, Colonel William Abernathy and Sterling Abernathy, husband, Herbert Hamilton, and niece Mailis Herring. She is survived by a daughter, Julie Anne Hamilton Warmouth, grandchildren, Julie Wheat Loveless, Wendy Warmouth Brandon, and William Bryant Warmouth Jr., great-grandchildren, Jackson Hamilton Wheat, Carson Wright Wheat, and Cross Brandon. She is also survived by a much loved niece, Shelly Jennings and husband Tom, nephews, Chris Abernathy and wife Janette, Sterling Abernathy III, and wife Nancy, and Steve Abernathy and wife Janet.
The family would like to thank Baptist Hospice, especially Lindsey Grisson, and the wonderful nurses at Little Rock Baptist Medical Center , 5th floor. There will a reception before services at 1pm on Friday , October 15, 2010 at Pulaski Heights Baptist Church in the parlor followed by a funeral service at 2 p.m., officiated by Reverend Randy Hyde. Burial will follow at Pine Crest Cemetery. Arrangements are under the direction of Ruebel Funeral Home, www.ruebelfuneralhome.com. Memorials may be made to Pulaski Heights Baptist Church and day school and to the Abernathy, Hamilton, McMurray scholarship fund at Ouachita Baptist College.
Published October 13, 2010
OBITUARY SUBMITTED BY:
Ruebel Funeral Home
6313 West Markham Street, Little Rock, AR
Phone: 501-666-0123
http://www.ruebelfuneralhome.com