James Rutherford Fair
Austin, TX, 1920 - 2010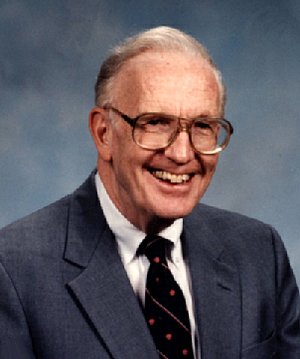 James Rutherford Fair died On October 11, 2010 at Austin, Texas after a short illness. Born in Charleston, Mo., October 14, 1920, the son of James R. and Georgie C. Fair, and reared in Tonganoxie, Kan., and Little Rock, Ark., he had been a resident of Austin since 1979, with his wife making their home on Northwood Road in Tarrytown.
He is survived by his wife of 61 years, Merle Innis Fair, formerly of Port Lavaca, Texas, and by two children and their spouses, James Rutherford Fair III, and wife Linda, of Fort Smith, Ark.; and Richard Innis Fair, and wife Kathy, of Mishawaka, Ind. A third child, Elizabeth Fair Drews, died in 2010; her husband is Donald Drews, of Oak Park, Ill. James Fair is survived also by six grandchildren, Eric Rutherford Fair, William Robert Fair, Ellen Drews, Thomas Rutherford Drews, Andrew Chalmer Fair, and Michael James Fair. Also surviving him is a brother, Robert Fair, of Charlottesville, Va. A sister, Mary Nance Fair Stramm, of Fayetteville, N.C., preceded him in death.
He was a graduate of Little Rock Central High School, and later he and his wife were donors of the annual SECME Award at that institution. His parents, Mr. and Mrs. James R. Fair, Sr. were long-time residents of the city and quite active in Second Presbyterian Church. His daughter Beth was a reporter with the Arkansas Gazette for several years, working mostly at the State Desk. At the time of his death Dr. Fair held an appointment as the McKetta Centennial Energy Chair Emeritus in the Chemical Engineering Department at The University of Texas at Austin, where he founded the long-lived Separations Research Program and served as its Head from 1982 to 1996. After a distinguished career in industry, primarily with Monsanto Company, he moved to the University in July 1979 where he was awarded the first endowed chair in the College of Engineering. His industrial background included significant assignments in research, process design, manufacturing technical services and commercial development. During World War II he was vitally involved with the government high explosives and synthetic rubber programs. His final position at Monsanto was Director of Corporate Technology. In addition, he served as Affiliate Professor of Chemical Engineering at Washington University in St. Louis from 1964 to 1977. Dr. Fair was a former Director of the American Institute of Chemical Engineers (AIChE), a former president of James R. Fair, Inc., a former vice-president of Fractionation Research, Inc., and was a Registered Professional Engineer in Texas and Missouri. His honors included the Personal Achievement Award of Chemical Engineering magazine; the William H. Walker Award, the Chemical Engineering Practice Award, the Founders Award, and the Gerhold Award in Separations Technology, all from AIChE; the Separations Science and Technology Award of the American Chemical Society; the Distinguished Engineering Graduate Award from The University of Texas at Austin; election to Fellow Grade of membership in AIChE; and election to the National Academy of Engineering. In November 1979 he delivered the Annual Institute Lecture before AIChE, and in November 1983 was honored as an Eminent Chemical Engineer at the AIChE Diamond Jubilee meeting. In November 2000 he was honored in a special symposium of AIChE for his many contributions to the distance learning program of that organization. Dr. Fair received the 1987 Joe J. King Professional Engineering Achievement Award from the University of Texas at Austin. He held the Cockrell Chair in Engineering from 1979 to 1985 and the McKetta Centennial Energy Chair in Engineering from 1985 through 1992. In 1991 he received the Malcolm Pruitt Award from the Council for Chemical Research. In 1993 he received the Gold Medallion award from the American Society for Engineering Education. In October 1993 he was honored by a Festschrift of the international journal, Industrial and Engineering Chemistry Research. More recently, Dr. Fair was inducted into the Engineering Hall of Fame at Georgia Tech, in 1994. Dr. Fair authored or co-authored seven books and over 200 technical articles and book chapters. He supervised the Master's and Doctoral research of 42 graduate students. He also published extensively in the field of railroad history. He lectured internationally on many occasions, and for 25 years taught a continuing education course under the sponsorship of the American Institute of Chemical Engineers, the course being the most popular of that organization and offered over 125 times. He held BS, MS and PhD degrees in chemical engineering from Georgia Institute of Technology and the Universities of Michigan and Texas. Washington University and Clemson University awarded him honorary doctorates. His biographical sketch may be found in Who's Who in America and similar listings. He was an avid book collector and his very large collection on railroad history and operations has been given to the Railroad and Heritage Museum at Temple, Texas. He conducted research on railroad history and to this end published a number of articles as well as two full-length books on the subject. Earlier, his extensive collection of technical books was given to the University of Guanajuato in Mexico. He was an interested and semi-active alumnus of Sigma Nu Fraternity. He led an active church life, and served the church in many ways, including session membership, at University Presbyterian Church in Austin.
Funeral arrangements are being made by Weed-Corley-Fish, 3125 N. Lamar Blvd. Funeral services will be private. Burial will be at Austin Memorial Cemetery. Those interested may make gifts in his honor to The University of Texas at Austin, Chemical Engineering Department; University Presbyterian Church of Austin, or a charity of choice. Obituary and guestbook available online at www.wcfish.com. Arrangements by Weed-Corley-Fish Funeral Home, 3125 N Lamar Blvd, Austin, Texas 78705, (512) 452-8811.
Published October 13, 2010