Roy E. Kaden
Maumelle, AR, 1917 - 2010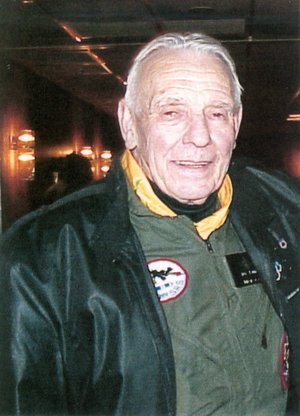 Lt. Colonel Roy E. Kaden, a decorated WWII and "Cold War" military pilot, died Monday, October 11, 2010 at the age of 93. He was born in Denver, Colorado on July 26, 1917 to the late Fred and Winnie Evelyn McDaniel Kaden. He is survived by his wife of 55 years, Geraldine Phillips Kaden; children, William Thomas Kaden, Linda Jane Walsh, Sara Costley, Michael R. Kaden and Jacquelyn Swisher; a sister, Bernice Jones; as well as eight grandchildren and 10 great-grandchildren.
Lt. Colonel Roy Kaden resided in Maumelle, and was a former resident of Cabot for 25 years. He was an active member of his church and a loving and caring husband and father. Lt. Col. Kaden served 25 years in the U.S. Army and Air Force. He enlisted in the Army Air Corps in 1937, joining the 38th Reconnaissance Squadron as an air crew member flying in B-10, B-18, and B-17 aircraft. In May 1941, he was among the aircrews that ferried the first group of B-17's to the pacific for the purpose of strengthening the pre-war defenses of the Philippines, for which he was awarded the Air Medal. He was commissioned a 2nd Lt. in February 1942. He entered flying school as a 1st Lt. and graduated as a pilot in 1943. From 1943 to 1945, he was an advanced flying school pilot instructor and a B-17 pilot. After WWII, he was assigned to the 91st Reconnaissance Squadron, flying a photographic B-17. From 1945 to 1949, he engaged in the photo mapping of several South American countries. From 1949 to 1954, he was assigned as a RB-50 pilot with the 38th Reconnaissance Squadron of the 55th Reconnaissance Wing. During these years while deployed to England, he flew photographic and electronic intercept missions adjacent to the Soviet Union. In September of 1952, he flew a "top secret" presidential directed reconnaissance photographic and electronic intercept mission against the "High Arctic", denied Soviet territory of the Franz Josef Land Archipelago, for which in 2002 (some 50 years later) Col. Kaden and his crew were awarded the Distinguished Flying Cross. As an RB-47 pilot with the 55th Wing from 1954 to 1960, he also served as the Wing Chief of Maintenance, the Field Maintenance Squadron Commander, and the Detachment Commander at 55th Wing overseas detachments. Following his retirement from active duty in 1960, he was employed by several large companies as a manufacturing engineer, tool engineer and chief engineer. He retired once again in 1974.
Funeral services will be 10 a.m., Friday, October 15, 2010 in the chapel of Moore's Cabot Funeral Home with Reverend Ben Leonard officiating. Interment will follow in Mount Carmel Cemetery. Visitation will be 6:00–8:00, Thursday evening at the funeral home. Arrangements are under the direction of Moore's Cabot Funeral Home (501) 843-5816. Please sign the online guestbook at www.moorescabotfuneralhome.com.
Published October 13, 2010
OBITUARY SUBMITTED BY:
Cabot Funeral Home
700 North Second, Cabot, AR
Phone: 501-843-5816