Sam Laser
Little Rock, AR, 1919 - 2010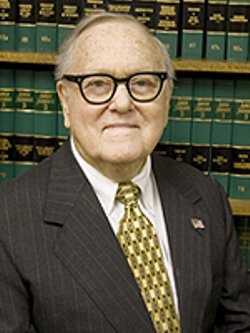 On the 21st day of October, 2010 at the age of 90 years, nine months and 21 days SAM LASER of Little Rock, Arkansas died after a career and life equaled by few. Born in Clarksville, Arkansas on December 22, 1919, Sam was educated in the public schools in Clarksville and Little Rock and graduated from Little Rock High School in 1937. After graduating from High School Sam attended Little Rock Junior College from 1937-1939 (where he was the captain of the basketball team) and then to the University of Arkansas School of Law until December 7, 1941 when he enlisted in the U.S. Navy. While serving in the Navy from 1941 through December of 1945, Sam survived the sinking of the Aircraft Carrier USS Yorktown at the Battle of Midway in 1942. He was discharged in December of 1945 as a Lt. USNR. Not only did Sam serve with distinction during World War II he was the recipient of medals along with 3 Battle Star Medals. After discharge from the Navy, Sam returned from the War to finish his last year of Law School at the University of Arkansas and in 1947 graduated with an LLB Degree. While in Law School Sam was on the Academic Honor Roll, a member of the Editorial Board of the Law Review, Blue Key National Honor Society, Delta Beta Phi legal fraternity, and Kappa Sigma Social Fraternity. After Graduation, Sam was admitted to practice law in the Arkansas State Courts and the Federal Courts and began a practice of law that lasted until he retired in 2008. Not only did Sam Laser belong to the Pulaski County, Arkansas, and American Bar Associations, he served as President of the Young Lawyers and on numerous Bar Association committees. Sam also taught at the Arkansas Law School, and was an Honorary member of the William Overton Inn of Court. Sam was known from the time he began practice as a talented and hard working trial lawyer, and in 1952 he founded the Laser Law Firm, where he practiced until 2008 and was the Senior Partner in the Laser Law Firm. Sam received many and diverse honors during his 60 plus years of practice. Worthy of exceptional note, his peers have voted him one of "The Best Lawyers in America" in a publication of that name since its inception in 1983. In 2004 Sam received the Outstanding Lawyer Award by the Arkansas Bar Association. In 2010 the Pulaski County Bar Association honored him with the Sydney McMath Award and has perennially been included in the Arkansas Times polls of Best lawyers in Arkansas. To say that Sam Laser was successful in his chosen profession is a gross understatement. Sam's friends and legal accomplishments are legion, he was loved for his ability, wit, and honesty. Sam, however, did not limit his activities to the law; he was a devoted member of the Westover Hill Presbyterian Church, and was a past Elder, past president of the Synod of Arkansas member of the church, served on church Boards at the State and National levels, and had recently became a devoted member of the Dick Hardy Sunday School class and Wednesday Men's Bible Study Group. Since Sam reported on board of USS Yorktown on December 6, 1941, he has been devoted to the Navy and his fellow servicemen. Indeed, all of Sam's adult life he has been a patriot who contributed to his country in combat, war, and peace. After World War II Sam was an active member of the "Yorktown Survivors, "and spoke often and well at military and patriotic gatherings throughout our nation; the last of which this year in Clinton, Arkansas on Veteran's Day. At 90, Sam could still make a speech that made your heart race and your toe tap. In 2000, Sam returned for another reunion. In 1942, as a young enlisted man while serving on board the Yorktown he visited the Island nation of Tonga; when he left, he told the people of the Tonga he would return. Sure enough, in June of 2000 he and Anne journeyed to Tonga and were guests of the King. Return he did, and he, Anne and the people of Tonga all had a grand time. Sam's life was filled with adventures, hard work, and service, but his devotion to animal of all kinds brought him great pleasure just as it brought a better life to the dogs and horses he owned and those his contributions assisted. Long a lover of horses and a fan of racing, Sam was a past President of the 55,000 member of the Horseman's Benevolent and Protective Association, member of the Association's National Executive Committee, Chairman of the National Board of Directors, a long time member of Humane Society, and loving "person" of Satchmo, Mabel and Ruby. Sam was the mentor of many and the friend of many more; he loved and was loved by Senators, Governors, janitors, lawyers, and folks on the street; he spoke at Veteran Day meetings, gatherings for friends, church and more juries than can be remembered. His courage in War, before the Bar and as a citizen will long be remembered.
Sam is survived by his wife Anne Cockrill Laser, his children: Alvin Laser and his wife, Carolyn of Arkadelphia, Arkansas; Phyllis Glaze and her husband, retired Associate Justice Tom Glaze of North Little Rock, Arkansas; Mary Sue Brewer and her husband, Randy of Steamboat Springs, Colorado; Beth Ann Morris and her husband, John of Sioux Falls, South Dakota; Toran Hayes and her husband, Keith of Benton, Arkansas; Kimberly VanHoozer and her husband, Jay of Senatobia, Mississippi; Samuel York Laser of Great Falls, Montana; and Sterling Warnock of Little Rock, Arkansas. He is survived by 17 grandchildren: Brooks, Sarah, Paige, Joshua, Ashley, Katie, Matt, Madison, Tyler, Austin, Calliann, Ryan, Duncan, Kathy Anne, Samantha Jewelle, Stone, and Peyton and eight great-grandchildren.
Visitation will be at Ruebel Funeral Home, 6313 West Markham, Little Rock on Sunday, October 24, 2010 from 6-8 p.m. Funeral services will be held at Westover Hills Presbyterian Church on Monday, October 25, 2010 at 10 a.m. Burial will follow at 3 p.m. at Oakland Cemetery, in Clarksville, Arkansas. The family especially thanks Sweet Pea, Arkansas Heart Hospital and the Gentiva Home Health Care Services.
Pallbearers will be: Bob McHenry, Ray Cannon, Lee Thalheimer, Gail Matthews, John Eberle, William H. Jett, Gene Minor, Ted Boswell, Bruce Munson, Fred Ursery, E.C. (Bubba) Benton Jr., Sid Dabbs, Ray Baxter, Gary Eubanks and Don Ryan. Honorary pallbearers: Governor Mike Beebe, Bob Wray, Judge Tom Glaze, David Laser, Sterling Cockrill, Bill Bowen, Warner Reed, Lou Rauton, Weldon Davis, Rex Lynn, Maurice Mitchell; Laser Law Firm partners and associates; and past and present judges in state and federal courts and Arkansas Bar members.
In lieu of flowers, donations may be made to: Humane Society of Pulaski County, 14600 Colonel Glen Rd, Little Rock, Ark. 72210; Westover Hills Presbyterian Hills Church; Department of Athletics UALR, 2801 S. University Ave., Little Rock, Ark. 72204; 6400 Richard B. Hardy Dr., Little Rock, Ark. 72207; Sam Laser Scholarship UALR William H. Bowen School of Law, 1201 McMath Ave., Little Rock, Ark. 72202 or the charity of your choice. Arrangements under the direction of Ruebel Funeral Home. www.ruebelfuneralhome.com.
Published October 23, 2010
OBITUARY SUBMITTED BY:
Ruebel Funeral Home
6313 West Markham Street, Little Rock, AR
Phone: 501-666-0123
http://www.ruebelfuneralhome.com