Jimmie "Jim" Holmes
North Little Rock, AR, 1921 - 2010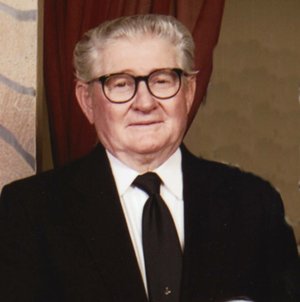 Jimmie "Jim Holmes, 88, of North Little Rock died Tuesday, October 26, 2010. He was born November 26, 1921 to the late Allen and Rachel Holmes.
He is survived by his children, Della Rhea Holley (Johnny), of Sherwood, Gordon Holmes (Linda), of Beebe, and Mary Ellon Rankin (Rick), of Houston; his sister, Ellen DeGroodt (John); four granddaughters; Darlene Houser (Robert), Kim Harris (John), LaDonna Lewis and Ashlea Watson (Bj) and one grandson, Jeremy Holmes (Jenny). 11 great-grandchildren; Hollie, Heather, Brittany, Blake, Rachel, Matthew, Hannah, Adam, Shawna, Nicholas and Hailey; five great-great-grandchildren; Bailey, Breann, Brooke, Sophia and Samantha. He was predeceased by his first wife, Opal Ashcraft Holmes and baby son. And his wife, Ellon Holmes; granddaughter, Debbie Holley, and grandson, Rick Rankin, Jr., brothers; Horace and Allen Jr. Holmes.
Jimmie was born in Bearden, Arkansas and later moved to Sheridan where he attended high school. He served in the United States Navy during World War II. Jimmie was a retired locomotive engineer from Missouri-Pacific Railroad after 33 years. He was a member of Locomotive Engineers-Division #182, and a Jehovah Witness. Jimmie loved the outdoors. He was an avid hunter. He would share his expert wisdom in the art of bow hunting and fishing to anyone who desired to learn. He also enjoyed his garden for many years. He loved to cook and had his own "special" barbeque sauce that his family loved. Jimmie was dearly loved by his family and friends and will be greatly missed.
Memorials may be made to Gideon's International, 403 S. Oak Street, Little Rock, Arkansas 72205 or Central Baptist Church, 5200 Fairway Avenue, North Little Rock, Arkansas 72116. Funeral services will be held 10 a.m., Saturday in the North Little Rock Funeral Home Chapel. Burial will be in Rest Hills Memorial Park. The family will receive friends from 6:00 to 8:00 p.m., Friday at the funeral home, 1921 Main St., 758-1170. Online obituary and guest registry at www.nlrfh.com.
Published October 29, 2010
OBITUARY SUBMITTED BY:
North Little Rock Funeral Home
1921 Main St, North Little Rock, AR
E-mail: mail@nlrfh.com
Phone: 501-758-1170