Benjamin F. Veit
Lawton, OK, 1931 - 2010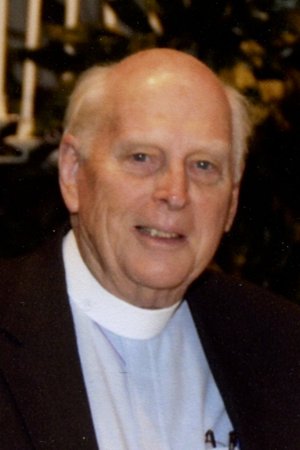 Memorial service for The Reverend Benjamin F. Veit, 79, Lawton, will be 10 a.m. Monday, November 1, 2010 in the Holy Cross Lutheran Church with Rev. Don Howard, pastor officiating.
Rev. Veit died peacefully at his son's home on Monday, October 18, in the presence of his children and grandchildren.
Burial will be in Sunset Memorial Gardens under the direction of the Becker Funeral Home & Cremation Service.
Rev. Veit was born on September 21, 1931 in San Diego, California to Benjamin Franklin Veit and Bess Bernard Brown Veit. He was their only child.
Ben was a graduate of Hoover High School in San Diego in 1949 and also attended San Diego State University. He was a 1953 graduate of Concordia College in Oakland, California in 1953. While in college he interned at the United Nations where he had the opportunity to meet and work with Mrs. Eleanor Roosevelt. After college, he attended Concordia Seminary in Maplewood, Missouri and received his master's degree from Washington University in St. Louis, Missouri. He would later attend courses at the University of Oklahoma. He served one year as a teacher of history at St. John's College in Winfield, Kansas. While at St. John's he met and married Joanne Werne, his wife of fifty years. She was his true love.
After marrying Joanne, he was ordained a Lutheran minister at Zion Lutheran Church in Bogalusa, Louisiana. He served as pastor there from 1959-1961. He then moved with his family to New Orleans, Louisiana, where he served from 1961 to 1966 as pastor of Gloria Dei Lutheran Church. In 1966 he received a call from Holy Cross Lutheran Church in Lawton where he served as that church's pastor for 27 years.
While in Lawton he volunteered at Cameron Campus Ministry and served on their board of directors from 1967-1998. He was a volunteer for Meals on Wheels for ten years, served as a chaplain for Hospice of Southwest Oklahoma, served with the Christian Family Counseling Center, was a member of the Northwest Kiwanis Club and served on the Board of Directors of the Lutheran Church Missouri Synod Oklahoma District. He also sponsored military officers from Columbia, Guatemala, Nigeria and Jordan. After his retirement in 1993, he served various Lutheran congregations as an interim pastor. One such, was the United Lutheran Church in Bella Vista, Arkansas, where Ben and Joanne relocated to in 2004. He had studied Spanish in Guatemala and taught Spanish classes in his grandchildren's elementary school.
He is survived by five children and their spouses, Steve and Nancy Veit, Lawton, Michael Veit, San Francisco, California, Elizabeth and Phillip Peterson, Maple Grove, Minnesota, Deborah and Scott Dubov, Zanesville, Ohio, and Chris Veit, Norman, Oklahoma; eight grandchildren, Amber Hughes & husband Robert, Brian Veit, Sarah Peterson, Kirk Peterson, Jeff Dubov, Kyle Dubov, Kassie Dubov and Mason Veit.
His parents, his wife and a son, Geoffrey Veit, preceded him in death.
Memorial contributions may be made to the Ben F. Veit Family Life Center at Holy Cross Lutheran Church, 2105 NW 38th Street, Lawton, Oklahoma 73505 or to the Cameron Campus Ministry, 500 SW 27th Street, Lawton, Oklahoma 73505. An online guest book and sympathy cards are available at www.beckerfuneral.com.
Published October 30, 2010