Jimmy Don Slayden
England, AR, 1962 - 2010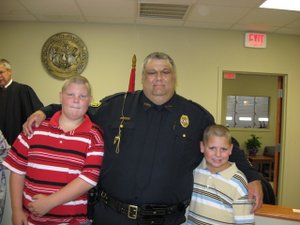 Sgt Jimmy Don Slayden, 47, of England went to home to be with his Lord and Savior on Tuesday Aug 31, 2010. Jimmy Don was born Sept. 1, 1962 to Jimmy and Margaret Slayden. He was a member of England Pentecostal Church of God. He was a member of the National Canine Association and has been a member of the Law Enforcement Community for 26 yrs. He served on the England police Dept. for 18 yrs. He loved God and his family very much. He loved to hunt and the city of England.
He was preceded in death by his father Jimmy Slayden. He is survived by his mother Margaret, his wife Carla Slayden, two sons, Jimmy Carl Slayden and Jordon Barkley Slayden, two sisters, Vicki (David) Lokey and Diann Hill, a special little angel Zoe Shelton, nephews, Jerrod Hill, Chris and Brandon Keck, Shane and Shawn Lokey, one niece, Jeni Hill, as well as a host of friends and family.
Funeral services are to be held Friday September 3, 2010 at 2 p.m. at First Baptist Church of England. Visitation will be Thursday, September 2, 2010 from 6-8 p.m. at Wilson Funeral Home in England. To view obituary online go www.wilsonfhengland.info.
Published September 2, 2010