Kenny Sando Robertson
Searcy, AR, 1974 - 2010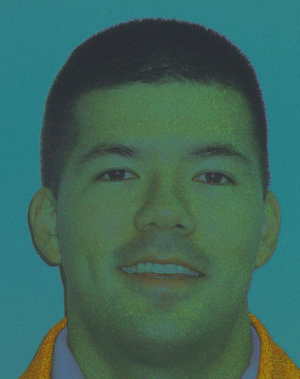 Kenneth Sando Robertson, 35, of Searcy, died Tuesday, August 31, 2010. He was born December 11, 1974 in Little Rock, Arkansas, the son of Marvin and Hiroko Robertson. Kenny was a graduate of the class of 1993 at Harding Academy. He attended Texas A&M and graduated in 1998 with a B.S. in Mechanical Engineering. Upon graduation, he was commissioned into the United States Marine Corp where he served as a helicopter pilot, eventually flying for VMR-1 as a search and rescue pilot. After 10 years of military service, he re-located to Searcy and began flying for Air-EVAC Life Team out of Vilonia.
Kenny is survived by his wife, Angie Robertson; two sons, Kale and Archie; one daughter, Abby; his parents, Marvin and Hiroko Robertson of Searcy; a brother, Wilson Robertson and his wife Tonya of Austin, Texas; two sisters, Andrea Baker and her husband Jay of Springfield, Missouri, and Jill Robertson of Shizuoka, Japan; in-laws, Wade and Sandra Green of Nashville, Tennessee; one brother-in-law, Joseph Green and his wife Maggie of Nashville, Tennessee; three nephews, four nieces, and one honorary brother, Mike Owen and his wife Amanda of Ewa Beach, Hawaii; and many friends and a large college-student family.
Kenny spent time attempting to b e a professional golfer, but settled for beating his dad. He loved serving others through flying. He was a dedicated Texas Aggie who loved camping and riding bikes with his children. He and Angie shared a special happy marriage. Ten years wasn't long enough. He was a member of the Downtown Church of Christ. Kenny embodied Christ in many ways as he governed his household with wisdom, enthusiastically looked for service and outreach opportunities as well as exhibited genuine concern, care and love for others. He was gifted with incredible intelligence and was a beloved counselor and friend. We eagerly await the day we'll be re-united with him as well as all the other saints in Christ when our great Lord comes again.
Memorial services will be at 9 a.m., Saturday at the Downtown Church of Christ in Searcy. Visitation will be Friday from 6 to 8 p.m. at the Powell Funeral Home of Searcy. www.powellfuneralhome.net.
Published September 2, 2010
OBITUARY SUBMITTED BY:
Powell Funeral Home
2602 W Beebe Capps Expressway, Searcy, AR
Phone: 501-268-7220
http://www.powellfuneralhome.net