Kathryn Chamberlin Smith
Little Rock, AR, 1914 - 2010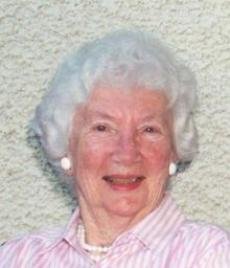 Kathryn Chamberlin Smith, 96, died Tuesday, September 14, 2010. She was predeceased by her husband of sixty-three years, Stephen Harrow Smith, and their only child, Josephine.
She is survived by Jill C. Harms, Shannon C. Laufenberg , Shawn C. Whitworth and Grace White, Bill (O'Dell) Henson, Ann Campbell, Dorinda Davis, Kathryn Stueve and Phillip W. Henson.
Born to William Clark and Josephine Ahrens Chamberlin in Hot Springs, on June 9, 1914, Kathryn was known to generations of friends and family as "K.C." Her parents moved to Arkansas from Missouri in the 1920's. A graduate of Radcliffe College, K.C. met the love of her life, Harrow. After a long courtship, she coaxed him into marriage during his days in the army air corps in Mississippi. They were married in Greenwood, Mississippi, July 5, 1945. Daughter, Josephine joined the Smith household two years later. K.C. and Harrow spent a wonderful lifetime together enjoying an active business and social life in Little Rock centered on their beloved friends. K.C. was a member of the Country Club of Little Rock. Together they were renowned and fierce competitors at the bridge table. Summers brought friends and family to their family home on the point at Cape Porpoise, Maine. K.C. was devoted member of the Little Rock Garden Club and Second Presbyterian Church of Little Rock. Thanks to the wonderful caregivers who have been so dedicated to the Smith Family, particularly Marilyn Carter, Grace Isaguirre, Pearl Thomas and Felious Woods.
A Memorial Service will be held at Second Presbyterian Church Monday, September 20, 2010 at 11 a.m. In lieu of flowers, memorials may be sent to a charity of your choice or the Arkansas Nature Conservancy, 601 North University, Little Rock, AR 72205; Pulaski County Humane Society, 14600 Colonel Glenn Road, Little Rock, Ark. 72210; and, the Salvation Army of Little Rock, 1111 W. Markham, Little Rock, Ark. 72201/Attn: Major James Taylor. Arrangements under the direction of Ruebel Funeral Home. www.ruebelfuneralhome.com. K.C.'s many friends and family will miss her for they know that Proverbs 31:25 described her well: "Strength and dignity are her clothing and she smiles at the future."
Published September 17, 2010
OBITUARY SUBMITTED BY:
Ruebel Funeral Home
6313 West Markham Street, Little Rock, AR
Phone: 501-666-0123
http://www.ruebelfuneralhome.com