Stephen Louis Recken
Little Rock, AR, 1947 - 2010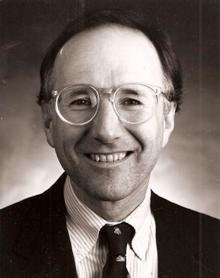 Stephen Louis Recken, Ph.D., of Little Rock died Sept. 14, 2010. He is survived by his wife, Susan Fountain Recken; daughter, Maria Recken of South Bend, Ore.; brother, Joseph Recken of Anchorage, Alaska; and sister, Roberta Recken, and step-mother, Joanne Recken, both of Portland, Ore. Born Nov. 12, 1947, in Portland, he was the son of the late Dolores Heath Recken and Robert L. Recken.
Dr. Recken earned a B.A. from Portland State University and a Ph.D. from Washington State University. He directed museums in Oregon and the state of Washington before coming to the University of Arkansas at Little Rock in 1989. He was proud of having served as municipal judge of Palouse, Wash., from 1974 to 1980. At UALR Recken taught American history and directed the master's program in public history until 2005 when illness forced him to retire. He was active in the National Council on Public History and a member of the boards of the Arkansas Humanities Council, Pulaski County Historical Society, and board of editors of the Arkansas Historical Association. Recken published scholarly articles in the Journal of Public History and the Arkansas Historical Quarterly, presented papers before the National Council on Public History, and was recognized as an excellent teacher by students and colleagues. In 2009 he received the Peg Newton Smith Award for Lifetime Achievement from the Arkansas Museum Association.
As a young man, Recken was an avid mountain climber who guided groups up various peaks in the Cascade Mountains and himself reached the summit of Mount Matterhorn. He enjoyed sailing, running and cycling. For many years, he prevailed over illness with civility, good cheer, and a droll sense of humor. His friends will miss his standard, jovial telephone greeting: "Stephen Recken calling!"
The Rev. Danny Schieffler will officiate at a celebration of Stephen Recken's life at 10 a.m., Sept. 20, 2010, at St. Mark's Episcopal Church, 1000 N. Mississippi St., Little Rock. In lieu of flowers, memorial gifts may be made to the Pulaski County Historical Society (P.O. Box 251903, Little Rock, Ark., 72225), the UALR History Institute (Department of History, UALR, 2801 S. University, Little Rock, Ark., 72204) or the Arkansas Historical Association (Department of History, Main 416, University of Arkansas, Fayetteville, Ark., 72701. Cremation arrangements by Ruebel Funeral Home. online guest book, www.ruebelfuneralhome.com.
Published September 17, 2010
OBITUARY SUBMITTED BY:
Ruebel Funeral Home
6313 West Markham Street, Little Rock, AR
Phone: 501-666-0123
http://www.ruebelfuneralhome.com