Wendi Michelle Hall Snell
Jacksonville, AR, 1974 - 2010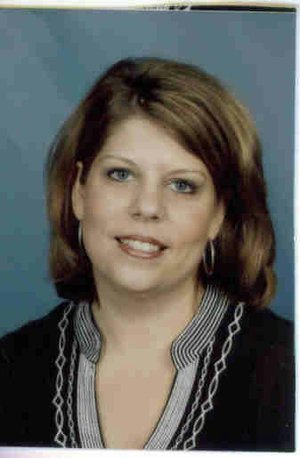 Wendi Michelle Hall Snell, 36, of Jacksonville, lost her battle with Chiari Malformation on Saturday, September 18, 2010. Waiting in heaven were her grandparents, L.G. Teague (Grandpa) and Ivy (Granddaddy) and Alice Hall (Nanny Mutt).
She leaves to cherish her memory, her husband Joel Snell; her precious daughters, Emily Grace and Olivia Clare; parents, Billy and Pam Hall; grandparents, Larry ("Dubby") and June Bonham (Nanny Cokie); sister and best friend, Misty (Brian) Cagle; and nephews, Brice and Brady. Also survived and loved by mother-in-law, Janice Snell, two brother-in-laws, Robert (Misty) Snell, and Lee (Wendy Michelle) Snell; and niece and nephews, Kaylan, Nathan, and Hayden.
Wendi graduated with honors from Jacksonville High School and received her teaching degree from the University of Central Arkansas. While teaching, she continued her education and received her Masters Degree. She received the Bobby G. Lester Excellence in Education Award. At Murrell Taylor, where she was Math Specialist, she was on the Leadership Team, Member of the Arkansas Leadership Academy Team Institute, Member of National Council of Teachers of Mathematics, Member of National Council of Supervisors of Mathematics, member of the Pulaski County Math Curriculum Team, and conducted professional development for Pulaski County School District. She was one of two founding sponsors of Murrell Taylor Student Council and a member of Murrell Taylor P.T.A. Wendi's goals in life were getting married, having children, and teaching school. She achieved all of these goals with unwavering love and giving. Wendi was the go to girl at Murrell Taylor touching each and every teacher and student that she came in contact with. Wendi's right arm was her Mom. They were almost inseparable, especially during Wendi's failing health. Thirty six years was not enough for someone with a heart as big as hers. Her legacy will continue to touch many more lives as her organs have been donated so that others can have a better life.
In lieu of flowers, the family asked donations be sent to the Wendi Snell Memorial Fund at Murrell Taylor Elementary School, 1401 Murrell Taylor Drive, Jacksonville, Ark. 72076. We would like to express our heartfelt thanks to Dr. Ron Fewell, Dr. Redding, her neurosurgeon, the Baptist Health family, and the Aurora team for their care and concern. Visitation will be Tuesday, September 21, 2010, 6-8 p.m. at Second Baptist Church, 1117 North James St., Jacksonville. Funeral service with celebration of Wendi's life will be at Second Baptist Church, Wednesday, September 22, 2 p.m. Interment following in Mt. Carmel Cemetery in Cabot. Family requests for all to sign her guestbook. Visit www.woodbeanfh.com. Arrangements by Wood Bean Family Memorial Center, 2620 W Main St., Jacksonville. Ark. 72076 (501) 982-3400.
Published September 21, 2010
OBITUARY SUBMITTED BY:
Wood Bean Family Memorial Center
2015 N. First Street, Jacksonville, AR
Phone: 501-982-3400