Mary Magdalene Owen Sneed
Peach Orchard , AR, 1920 - 2010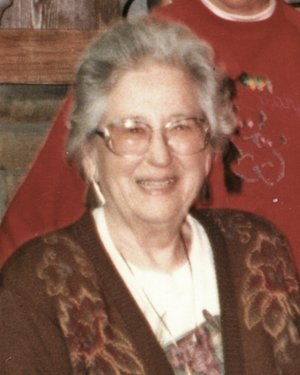 Mary Magdalene Owen Sneed Born January 15, 1920 Died September 26, 2010 Mary Sneed was born and lived in Peach Orchard, Arkansas. She was very active in the community, especially with the Peach Orchard Pentecostal Church. She taught Sunday School for more than 65 years, was a trustee of the church, and hosted many ministers and their families in her home. She worked tirelessly for the church wherever she was needed. She had a lifetime membership to the PTA and was a former PTA President. She owned a beauty shop for over 30 years prior to working as a bookkeeper at P.L. Oliver Cotton Co.
She is preceded in death by her parents, Mr. and Mrs. Ralph Owen; sister, Nita Owen Steele; and brother, Raye Owen. She was a widow at a very young age when her husband Booth Carroll died while in active duty in the Army. Her husband W.F. Sneed died in April of 1990.
Mary and "Dub" were married over 40 years and worked together many of those years. They also enjoyed traveling to visit friends and relatives. She is survived by one daughter Mary Ellen Sneed of Little Rock; sister, Martha Owen Border of Peach Orchard; brother, John E. Owen of Springhill, FL; several nieces, nephews, and relatives; and many friends.
In lieu of flowers, memorials may be made to Brownie-Pirtle Cemetery Association, c/o Judy Schimming, 899 CR 206, Peach Orchard, 72453 or Habitat for Humanity International, 121 Habitat St., Americus, Ga. 31709-3498. Funeral service will be Wednesday, 2 p.m. at Peach Orchard Pentecostal Church in Peach Orchard with Rev. Frank Hardwick officiating. Burial will follow at Brownie Cemetery in Peach Orchard. Visitation will be Tuesday, 6-8 p.m. at Ermert Funeral Home in Corning. Online Registry: www.ermertfuneralhome.com.
Published September 28, 2010
OBITUARY SUBMITTED BY:
Ermert Funeral Home
1000 West Elm Street, P.O. Box 65, Corning, AR
Phone: 870-857-3596
http://www.ermertfuneralhome.com