Albert Sidney Hartman Jr.
Little Rock, AR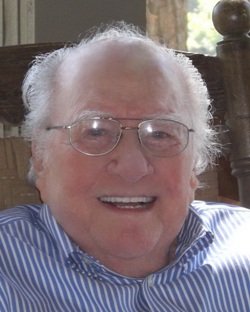 Albert Sidney Hartman Jr. passed away peacefully in his sleep at Parkway Village on Wednesday morning, August 3, 2011. Albert, better known as "Bud" was born in Brookhaven, Mississippi in 1920 to Albert Sidney and Estelle Hartman. He had an idyllic childhood spoiled by his two sisters, Evelyn and Flo, his mother, and aunt, Annie Granberry. He excelled in football in high school, and in 1942 joined the Army Air Corp. He flew the P51 fighter on 82 WWII combat missions earning him the Distinguished Flying Cross. In 1944, he married his hometown sweetheart, Norma Louise Hedgepeth, and they had three children. He continued his service in the Air Force. It took him and his family all over the world. This afforded him one of his greatest joys, talking to people and learning all about them; be they American, or of a different culture and finding all the common or not so common threads in all of them. He never met a stranger. He made everyone feel special just by being sincerely interested in them. He was a devout Christian and was active in all the churches he attended all over the world.
He is preceded in death by Norma, his wife of 64 years. He is survived by: his son, Sid Hartman of Orlando and his wife, Janet and their twins, Philip and Lauren; his daughter, Melissa Bearden of Little Rock, her daughter, Ashley Bearden of New York City, her son, Brian Bearden and his wife, Sabra and their daughter Maddie of North Little Rock; his daughter, Heather Russell of Dallas and her husband, Allen and their daughter, Kelly Schwartz of Washington, DC and her husband, Roy and their two sons, Hudson and Landon.
A Memorial Service will be held in The Chapel at Parkway Village, 14300 Chenal Parkway in Little Rock on Saturday, August 6 at 10 a.m. His internment will be held in Brookhaven, Mississippi with extended family at a later date. In lieu of flowers, donations can be made to: The Autism Treatment Center 10503 Metric Drive Dallas, Texas 75243 Email: hrussell@atcoftexas.org. Arrangements are under the direction of Ruebel Funeral Home, www.ruebelfuneralhome.com.
Published August 4, 2011
OBITUARY SUBMITTED BY:
Ruebel Funeral Home
6313 West Markham Street, Little Rock, AR
Phone: 501-666-0123
http://www.ruebelfuneralhome.com