Helen Louise Plate
Jacksonville, AR, 1922 - 2011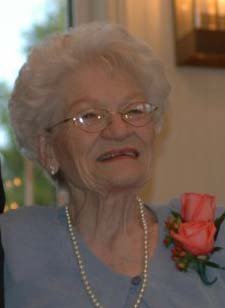 The Soul of Helen Louise Plate left her body on December 4, 2011. Helen was a short time resident of Jacksonville, Arkansas. She was a member of St. Stephens Episcopal Church in Jacksonville. The Angels came for her at 9:40 p.m. as she rested comfortably at North Metro Medical Center.
Helen is survived by her husband of 71 years, Wilmer (Will) Plate of Jacksonville; sister Delores Jean Burton of Flemington, West Virginia; two daughters and sons in law, Eleanor and Bruce Isaacsen of Hemet, California; Mary and Richard Engel of Jacksonville, Arkansas; five grandchildren; 11 great-grandchildren; and one great-great-grandchild.
Helen was a loving wife and expressed great love for her children. She loved her grandchildren and defended them against all enemies', friend or foe. She was their champion. Helen and Wilmer spent most of their married life in the U.S. Air Force, Wilmer in uniform and Helen serving on the home front. She was a staunch supporter of the Air Force and would have made a good recruiter. Many times Helen said she would not trade her Air Force life for any other.
She was active in civic affairs at military bases and the civilian community where they lived. Helen served as president of the PTA; served as a Sunday school teacher and was a member of the choir. She was active as a fund drive worker and many other civic duties. During the military assignment at Erding Air Base in Germany in the 1950's, she co-chaired a German war orphan fund drive that netted more the thirty thousand dollars.
She received a commendation letter from the base commander for her dedicated service during this month long base wide fund drive. While stationed in Los Angeles she took a job at the University of Southern California to augment our meager Air Force pay. She took the position of the assistant to the Bursar.
One of her many duties were the collection of delinquent accounts. She was relentless in her efforts to collect past due monies. Rank or station in life was not a deterrent. The school coffers swelled some because of her efforts. The bursar was also the manager and dispenser of college football tickets. Being his assistant we were able to acquire great seats for home and Rose Bowl games. She had a speaking acquaintance with OJ Simpson and his first wife.
Shortly after we retired from the Air Force we bought our first recreational vehicle, a pick-up with a slide-in camper. We established a home in Oklahoma, but traveled many miles in a number of RVs, visiting all but two of the 50 states. Helen's hobbies were sewing, camping, and boating. She had a zest for life that was contagious. She will be sorely missed and always loved.
A memorial service will be 1:00 p.m. Saturday, December 10, 2011 at St. Stephen's Episcopal Church, 2415 Northeastern Avenue, in Jacksonville with Reverend Bruce Limousine officiating. The family requests memorials are made to American Cancer Society in Helen's memory. Thos wishing to send flowers in honor of Helen, can be sent to the funeral home. Please sign the online guestbook at www.mooresjacksonvillefuneralhome.com. Funeral arrangements are under the direction of Moore's Jacksonville Funeral Home. (501) 982-2136.
Published December 9, 2011
OBITUARY SUBMITTED BY:
Moore's Jacksonville Funeral Home
1504 Loop Road, Jacksonville, AR
Phone: 501-982-2136
http://www.mooresjacksonvillefuneralhome.com