Romie Alton "Buck" Banks Jr.
Cotton Plant, AR, 1918 - 2011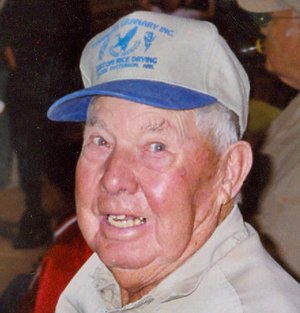 Romie Alton "Buck" Banks Jr., longtime resident of Cotton Plant, Ark., departed this life Sunday, Jan. 23, 2011 at Woodruff County Health Center in McCrory, Ark. at the age of 92. He was born Oct. 13, 1918 in Monroe County in the community of Dark Corner, Ark. Romie Alton Banks Jr. was the first born of nine children to Romie Alton Sr. and Maude Ann (Swindle) Banks.
He was a farmer and avid sportsman and fan. He was well recognized by is distinguishing voice. He enjoyed spending time an telling stories with family and friend. Several people labeled him as being the #1 Sports Fan of Arkansas. You might have seen or met him at any baseball, football, basketball, softball, track, or golf event anywhere in the state, or sometimes even out of state. He was a man who loved his family and everyone he met, young or old.
Mr. Banks was preceded in death by his parents, Romie and Maude Banks; wives, Mary Katherine King Banks and Verna Tapp Banks; sons, Jackie Ray Banks Sr.; grandson, Teddy Alton Patterson; five brothers, Charles Banks, Sidney Banks, Roy Banks, Harold Banks, and Gale Banks; one sister, Gladys Banks Swinney.
Mr. Banks is survived by daughters, Pat Patterson (Billy), Biscoe, Ark. and Becky Rauth (Wally) of Forrest City, Ark.; daughter-in-law, Susan Duncan Banks, Brinkley; grandchildren, Tony Patterson (Vickie), Biscoe, Tonya Oxner (Willie), Brinkley, Lori Patterson, Vilonia, Art Thompson, Anthem, Ariz., Mikki Banks, Little Rock, Jackie Ray Banks Jr. (Duffie), Stuttgart, Matthew Banks, Orlando, Fla., John Rauth (Tammy), Jacksonville, Ark., Carolyn Jane Jones (Greg), Hot Springs, Adam Rauth (Stephanie), Jonesboro; great-grandchildren, Anthony and Ethan Patterson, William and Haley Oxner, Hayden and Lauren Patterson, Jake and Emma Banks, Justin Thompson, Max Rauth, Ashle, Spencer, Katie and Halley Jones, and Jessica Hilbert; two sisters, Donna Sue Watson (Donnie) of Wheatley and Carolyn Jean Miller (D.A.) of Fredericksburg, Va.; and a host of family and friends.
Pallbearers: Tony Patterson, Art Thompson, Jackie Banks Jr., Matthew Banks, Anthony Patterson, William Oxner and the spirit of Teddy Patterson. Honorary pallbearers: Tonya Oxner, Mikkie Banks, Ethan Patterson, Haley Oxner, Hayden Patterson, Lauren Patterson, Justine Thompson, Jake Banks and Emma Banks.
Visitation is Tuesday, Jan. 25, 2011 from 6 to 8 p.m. at Fowler Funeral Home, Brinkley. Funeral service is Wednesday, Jan. 26, 2011 at 2 p.m. at First Baptist Church in Cotton Plant, where he was a member. Burial will be in Cotton Plant Cemetery by Fowler Funeral Home.
Special requests from Mr. Buck: in lieu of flowers, memorials may be made to Cotton Plant First Baptist Church or to any athletic association in your area.

Published January 25, 2011