Mary Frances Proue
Little Rock, AR, 1931 - 2011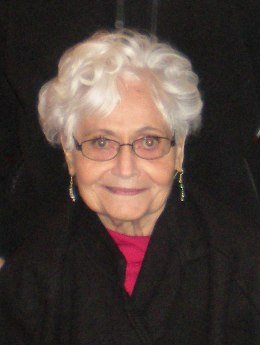 Mary Frances Proue, 79, of Little Rock, died on Monday, March 14, 2011. She was born in Little Rock on July 28, 1931 to the late Jacob and Gertrude Sullivan Proue.
She is survived by her sister Edith Proue Foot of Little Rock and 12 loving nieces and nephews as well as many grandnieces and grandnephews. She was preceded in death by three sisters: Betty Proue Byers, Janice Proue Doramus and Jacqueline Proue Albers.
Although Mary contracted polio when she was 15 years old and was in a wheelchair from that age, she always counted her blessings and felt that God had big plans for her. She saw every setback as an opportunity and was a witness to all who knew her. Mary worked for many years for Proue Auto, McLarty Leasing and Pulmonary Associates, where she was the office manager until her retirement. Being in a wheelchair did not keep her from living by herself, driving to work and attending her beloved church. Mary and her family were founding members of Grace Lutheran Church, where she was a lifelong children's Sunday School teacher as well as a member of the choir. She touched countless lives through her faith and spirit. She also considered it a privilege to preach on a regular basis at Woodland Hills Retirement Home where she was a resident.
Mary's family would like to give special thanks to Pastor Walter and the entire congregation of Grace Lutheran Church for their endless support and care. A special thank you is also extended to Mary's many friends and neighbors who brought joy to her life.
A funeral service to celebrate Mary's life will be held at Grace Lutheran Church, Kavanaugh and Hillcrest, Little Rock, Ark. at 12:30 p.m., Wednesday, March 16 followed by burial at Little Rock National Cemetery. Arrangements are by Ruebel Funeral Home, www.ruebelfuneralhome.com. In lieu of flowers, memorials may be made to Grace Lutheran Church, 5124 Hillcrest Street, Little Rock, Ark. 72205.
Published March 15, 2011
OBITUARY SUBMITTED BY:
Ruebel Funeral Home
6313 West Markham Street, Little Rock, AR
Phone: 501-666-0123
http://www.ruebelfuneralhome.com