G.W. Hogins
Conway, AR, 1928 - 2011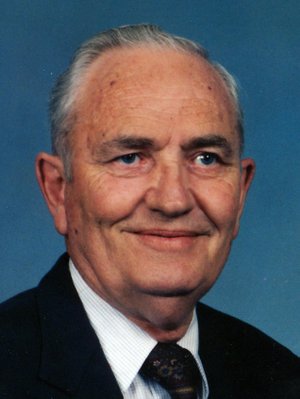 GW Hogins, 83, a recent resident of Conway, Arkansas and a long-time resident of North Little Rock, died Sunday, March 27th at his home surrounded by family members. He was born February 22, 1928 at Cottonwood, Arkansas to Buel and Daisie Powers Hogins. He was a graduate of Dover High School. As an 18 year old graduate of Arkansas Polytechnic College, GW began teaching Vocational Agriculture at Fourche Valley, Pottsville, Arkansas. Veterans who left for the war as boys, returned as men to a world that was transformed....as did the nature of agriculture; he taught those veterans, some of whom were much older than he. On his 20th birthday, GW married his high school sweetheart, Billie Jean Pack.
In 1949 GW opened and managed the first Co-op in Russellville (Pope County Farmers Association). Next, he organized and managed Miller Bowie County Farmers Association in Texarkana, Arkansas. Mr. Hogins then was employed for 16 years at Southern Farmers Association in North Little Rock, Ark., before moving to Mississippi. He retired in 1992 as president and CEO of Delta Purchasing Federation in Greenwood, Mississippi, after 25 years there. GW loved gardening, fishing, and travel. GW and Billie's extensive travel, both for business and pleasure, took them through six continents. The Hogins recently celebrated their 63rd wedding anniversary.
In addition to his wife, Mr. Hogins is also survived by daughters and sons-in-law, Saundra Brooks of Little Rock; Donna and (Garold) Brooks of Littleton, Colorado; Polly and (Jim) Walker of Conway; and grandchildren, Kevin and (Spring) Brooks of Baton Rouge, La., Stephanie and (Scott) Corliss of Austin, Texas, Aaron Brooks of Scottsdale, Arizona, Katie and (Andrew) Stuvel of Grand Forks, North Dakota, Amanda Brooks of Littleton, Colorado, Nathan and (Dawn) Ragan of Conway, Blake Ragan of North Little Rock, and five great-grandchildren, Avery Jean and Kalleigh Ann Corliss, Olivia Jean Brooks, Keegan Smith, Paityn Ragan. He was also loved by a host of other family including his brothers, W. Reece Hogins of Dover, Arkansas, and James Burl Hogins of San Diego, California and many friends. GW was preceded in death by his parents and brothers, Raymond and Jack Hogins. As a member of Park Hill Christian Church in North Little Rock, he served as Elder for several years.
Pallbearers will be the grandsons. Funeral will be held at 2 p.m., today at Humphrey Funeral Service. Rev. Miles Cook will officiate and Burl Hogins will deliver the eulogy. Burial will take place at Rest Haven Memorial Park. Internet obituary and online guestbook are available at www.humphreyfuneral.com.
Published March 29, 2011
OBITUARY SUBMITTED BY:
Humphrey Funeral Service Inc.
2801 W. Main St., Russellville, AR
Phone: 479-968-4411