Virginia Ann Cheatham Miller
of Little Rock, AR, 1917 - 2012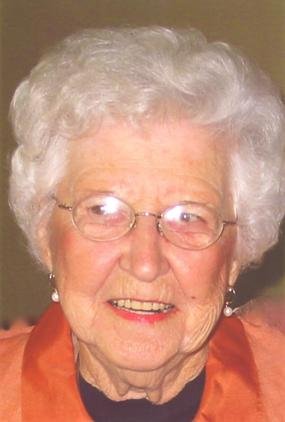 "Laugh, love your neighbor, those who aren't your neighbor, just love people."
That was VIRGINIA ANN CHEATHAM MILLER'S philosophy of life as spoken by her when crowned 2009 Arkansas Nursing Home Queen. The contest was featured in the New York Times Online in a video filmed by her grandsons, Television Documentarians, Brent and Craig Renaud. Virginia,"Ginny," truly lived her philosophy. She was lively, loving, and loved life.
She died at home, surrounded in person or in thoughts and prayers by those who love her Friday, Dec. 21, 2012, following a long illness.
She was born Sept. 12, 1917 in Chaffee, Mo. to Harry Val and Ethel Anna Hacker Cheatham. She graduated from the University of Missouri in 1939 with a bachelor's degree in home economics.
Ahead of her time, at a time when women rarely pursued higher education and did not travel alone, after receiving her degree she went to work traveling southern Missouri establishing School Lunch Programs, a new concept under Roosevelt's New Deal WPA. After being a "traditional" stay at home mother until her daughter began school she became Director of School Lunch Programs in Sikeston, Mo. A change in careers brought her to Cape Girardeau, Mo., where she was the sole social worker for the entire county, handling all matters concerning children.
A life long passion was spectator sports, especially her beloved St. Louis Cardinals. This sprang from her childhood experiences in a small town with two big brothers who played sports.
Following retirement, she moved to Little Rock, Ark. becoming very active in the Family Life program at First Baptist Church. She and her friends spent many hours in activities in the church. It was there that she found a love for travel. Eight Baptist ladies, traveling in two cars, covered the U.S. As age made driving cross country unsafe, undaunted, they switched to bus tours, one taking them to Alaska and trips with groups from the church, a favorite being to Switzerland.
She is preceded in death by two brothers, Bert and Harry Cheatham and two husbands, George Martin and Keith Miller.
She is survived by her daughter, Georgann Renaud Freasier; son-in-law, Ben Freasier; daughter-in-law, Denise Gibbs; granddaughters, Michele Renaud Adams, Rebecca Miller, Leslie Stolzer, Leesa Freasier, Laura McCarty; grandsons, Brent and Craig Renaud; great-grandsons, Taylor Adams, Peyton Adams, Taiyo Renaud, Landon Friend, Hayden McCarty, Zachary Stolzer, Jacob Stolzer, Christian Lambert, Jackson Lambert; great-granddaughters, Caylann Stolzer, Katlee Freasier and Alexandra Miller. She is also survived by her extended family and friends, especially her special neighbor, First Baptist Family Life and traveling friend, Violet Miller. Special thanks to the Staff at Emeritus Chenal Heights, Arkansas Hospice, especially hospice nurse, Vicky McElrath, R.N.
A funeral service will be held at Ruebel Funeral Home, 6313 W. Markham St., Little Rock on Thursday, Dec. 27, 2012 at 2 p.m. officiated by Rev. John Wright and Rev. Jim Lagrone. A service will be held at Ford and Sons Funeral Home in Cape Girardeau, Mo. on Saturday, Dec. 29, 2012 at 10:30 a.m. officiated by Rev. Mark Anderson. Burial will follow at Cape County Memorial Park. Memorials may be made to Arkansas Hospice, 14 Parkstone Drive, North Little Rock, Ark. 72116 or A.B.L.E. Paws, 3014 Valley Park Drive, Little Rock, Ark. 72212.
Arrangements by Ruebel Funeral Home, www.ruebelfuneralhome.com.
Published December 23, 2012
OBITUARY SUBMITTED BY:
Ruebel Funeral Home
6313 West Markham Street, Little Rock, AR
Phone: 501-666-0123
http://www.ruebelfuneralhome.com