C.V. "Clay" Ford Jr.
Gulf Breeze, FL, 1938 - 2013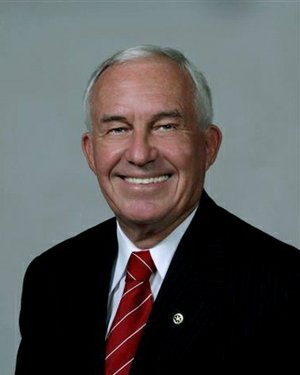 C.V. "Clay" Ford Jr., U.S. Army, COL (Ret), 74, of Gulf Breeze, Fla. entered into the presence of the Lord, Monday, March 18, 2013. C.V. was born September 24, 1938 in Wynne, Ark. to the late Clarence V. Ford, Sr. and Lavonne Glenn.
He is survived by a large family: his wife, Carol Ann DeBusk Ford; his three sons, David (Melissa) of Springfield, Ill., Doug (Kathryn) of Conway, Ark., and Clay (Brittany) of Gulf Breeze, Fla.; eight grandchildren; one great-grandchild; and mother-in-law, Carolyn DeBusk. He is also survived by brothers Jerry Ford, Robert Harmon, Randy Harmon, sister, Sharon Matte and stepfather David Shelby. C.V. was preceded in death by his brother, Don Ford and his parents.
He served his country proudly in the U.S. Army as an infantry officer in a number of assignments ranging from Germany to the Pentagon retiring as a full Colonel. During his military career, C.V. set an NRA national record during highpower rifle competition.
C.V. was an active member of Gulf Breeze Methodist Church, a member of the Gulf Breeze City council for 16 years and mayor Pro Tem, and past President of the Florida League of Cities. He was a private pilot, a Pi Kappa Alpha, a life member of the NRA, and a member of the Gulf Breeze Rotary Club.
C.V. was an outstanding attorney and a member of both the Arkansas and Florida bars. In the 70s, C.V. was elected to the Arkansas House of Representatives and served as President of the Pulaski County Special School District. Since February 2007, he has been a member of the Florida House of Representatives.
A graveside service will be held in Little Rock, Ark. In lieu of flowers, the family requests memorial donations to Pancreatic Cancer Action Network, 1500 Rosecrans Avenue, Suite 200, Manhattan Beach, Calif. 90266
Arrangements entrusted to Rose Lawn Funeral Home of Gulf Breeze. You may offer condolences, share memories and sign the guestbook at: www.roselawn-fh.com.
Published March 21, 2013