Carolyn Gray LeMaster
of Little Rock, AR, 1927 - 2013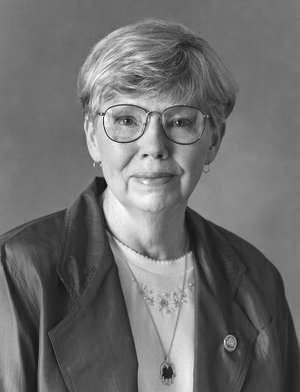 Carolyn Gray LeMaster, a native of Little Rock, died Novemebr 18, 2013. Born December 17, 1927, she was the daughter of Elisha Columbus Gray and Erma White Gray. She was married for 65 years to the late Robert LeMaster. They had four children: Rebecca, Robin (deceased), Gray and Glen. After raising her children, she enrolled at UALR in 1975 and graduated magna cum laude with a with a double major in 1977 as the Edward L Whitbeck Outstanding Senior. She received an M.A. from UALR in 1981. She worked in the UALR News Bureau as a writer and editor for four years before receiving a grant from the Arkansas Endowment for the Humanities to research and write a history of the Jewish experience in Arkansas. She visited 127 towns in Arkansas and 12 other states, interviewing hundreds of individuals; she subsequently wrote more than a thousand letters tracking down individuals and soliciting their histories. With family help, she did a census of all Jewish cemeteries in Arkansas, then looked up more than a thousand obituaries on microfilm. Her subsequent book, A Corner of the Tapestry: A History of the Jewish Experience in Arkansas, 1820's-1990's, was published in 1994 by the University of Arkansas Press. She also is the author of The Ottenheimers of Arkansas, published in 1996, and contributed articles to several other books, including The Voices: Southern Rabbis and Black Civil Rights. In 2005 she was named the Butler Center Fellow for the Arkansas Jewish History Collection and subsequently processed the prodigious amount of data she had collected and donated to the Arkansas Studies Institute.
She was a lifelong student of the Bible and of post-Biblical Jewish history, teaching Sunday school and lecturing in the subjects for more than 40 years. She taught a non-credit lecture series, "The History of the Jewish People: From Abraham to Arkansas," through UALR during the 1980s (and subsequently on request). She firmly believed in God's promises to the Jews as well as to Christians. She was a life member of the Arkansas Chapter of Hadassah and had served both as its program and education vice president. She was a member and officer of several historical societies, including the Southern Jewish Historical Society, Arkansas Women's History Institute, Arkansas Historical Association, and as president of the Pulaski County Historical Society, 2000.
She was predeceased by her husband, Robert, and daughter, Robin Rod. She is survived by a sister, Ellen Gray, of Little Rock; daughter, Rebecca LeMaster of Wroclaw, Poland; son and daughter-in-law, Gray and Nancy LeMaster, of Little Rock; and son and daughter-in-law, Glen and Margie LeMaster, of Moraga, Calif.; and grandsons, Jeff (Beka), Jacob (Leighann), Will (Kathryn, Seth (Sarah) LeMaster, all of Little Rock, and Nathan LeMaster, of Fayetteville, Ark., and granddaughters, Alisa Rod, of New York City, Michele Rod, of San Jose, Calif., and Samantha LeMaster, of San Diego, Calif.; great-granddaughters, Cosette and Cora LeMaster, of Little Rock; and a niece, Ellen Pinto, of Alexander.
She had been a member of the Bible Church of Little Rock for 47 years. In 2000, she and her husband joined the congregation, Pleasant Grove Baptist Church, in their Ferndale community. Memorials may be made to Pleasant Grove Baptist Church, Arkansas Chapter of Hadassah, or a favorite charity.
Visitation will be Thursday, November 21 from 6-8 p.m. at Little Rock Funeral Home, 8801 Knoedl Ct. (NW corner I-630 and Barrow Rd.). Services will be Friday, November 22 at 11 a.m. at Pleasant Grove Baptist Church, officiated by Rev. Chris Kinzler, followed by interment in Walnut Grove Cemetery. Arrangements by Little Rock Funeral Home, (501) 224-2200. Mrs. LeMaster's online guestbook may be signed at www.littlerockfuneralhome.com.
Published November 20, 2013
OBITUARY SUBMITTED BY:
Little Rock Funeral Home
8801 Knoedl Ct., Little Rock, AR
Phone: 501-224-2200