Billy H. Hartness
Monticello, AR, 1932 - 2014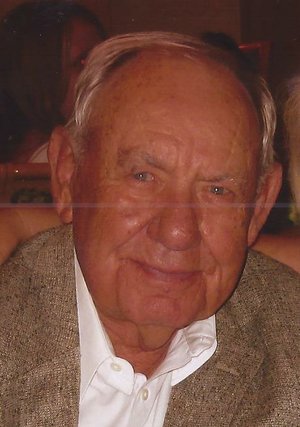 Billy H. Hartness, age 82 years, died on April 9, 2014. Billy was born March 7, 1932, in Cominto, Arkansas. He graduated from Monticello High School where he was an All-State football player, and went on to attend Ark. A & M (now UAM) before graduating from Northeast Louisiana University (now ULM) where he played football. He served his country in the U.S. Air Force during the end of the Korean Conflict, and was a 32nd Degree Mason.
After graduation from NLU with a degree in Business, he began his 50+ year career as a homebuilder in Monroe, Louisiana. In 1964 he returned to his hometown of Monticello and continued his homebuilding business and opened his own building supply store. He then moved his building business to Little Rock and was a successful homebuilder there for the past 27 years.
He was an active member of the Home Builders Association and served on local and state Boards of Directors many years and was a national committee member on the NAHB Rural Housing Committee. He felt that home ownership was a right of every citizen and fought and lobbied Congress for rural Arkansans to have the same right to own a home as everyone else.
Billy served the people of Monticello as a member and Chairman of the Drew Memorial Hospital Board, a member and President of the Monticello School Board, and as a member and President of the Chamber of Commerce.
He was also a cattle rancher and enjoyed time on his farm. He had a huge personality and never met a stranger. He always had a good story to tell, usually about the good old days. He had many interests: gardening (which he shared with his daughter), competitive games such as dominoes and horseshoes, all sports, and was a World War II buff.
He also helped organize and enjoyed attending the reunions of the class of '50 and he especially enjoyed the morning coffee meetings at the church with his friends.
Billy was saved and joined the First Baptist Church at the age of 11 and was still a member at the time of his passing. He loved the Lord and was ready to meet his Savior with lots of questions. Billy was preceded in death by his parents, Horace and Vivian Hartness, and his two children, Tracy and Dinah Hartness.
Billy loved his family and is survived by his wife of 24 years, Brenda; a daughter, Lisa Gibson and husband Cliff of Monticello; a son, Mark Hartness of Monticello; a step-son, Justin Keener and wife Leigh of Little Rock; four grandchildren, Joy Gibson Sills and husband Adam of Jonesboro, Chad Gibson of Springdale, Drew Hartness of Monticello, and Paige-Taylor Hartness of Virginia Beach, Virginia, and two step-grandchildren, Laura Beth and Harrison Keener of Little Rock; one brother, Larry Hartness of Lake Village.
Funeral services will be held at the First Baptist Church of Monticello at 1 p.m. on Saturday, April 12, 2014. Burial will be in Oakland Cemetery. Active Pallbearers are Drew Hartness, Chad Gibson, Justin Keener, Adam Sills, Brian Owens, Bruce Owens, Chris Cox, and Jacob Beaty. Honorary Pallbearers are Cliff Gibson, Buddy Coleman, Bennie Ryburn, Jr., Hiram Riley Taylor, Bob Person, Willard Jenkins, Rama Miller, Larry Hartness, W.J. McKiever, Paul Hartness, and the Men's Coffee Group of the First Baptist Church.
The family request memorials to First Baptist Church of Monticello, 413 North Main Street, Monticello, Ark., 71657 or the charity of your choice in lieu of flowers. Arrangements are by Stephenson-Dearman Funeral Home. Online guestbook www.stephenson.com.
Published April 12, 2014
OBITUARY SUBMITTED BY:
Stephenson-Dearman
P O Box 506, Monticello, AR
Find it at: Hwy 425 N.
E-mail: sdearman@ccc-cable.net
Phone: 870-367-2451
http://www.stephensondearman.com/