Rupert Martin "Buzz" Crafton
Blytheville, AR, 1934 - 2014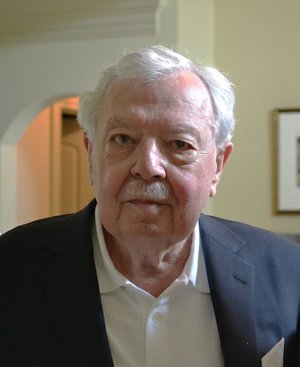 Rupert Martin "Buzz" Crafton died April 10, 2014 at the Baptist Hospital, Memphis, Tennessee. He was born January 1, 1934, to the late Rupert and Elizabeth Martin Crafton in Blytheville, Arkansas and resided there most of his life.
Mr. Crafton attended Blytheville Public schools and graduated from Columbia Military Academy, and the University of Arkansas in 1956. While at the University, he was a Razorback cheerleader and a member of the Kappa Sigma fraternity where he made many lifelong friends.
Following military service, Mr. Crafton returned to Blytheville to work with his parents at the Rupert Crafton Commission Company, an agricultural supply company that he still managed until March of this year when he sold the business to Jimmy Sanders, Inc.
Mr. Crafton married Barbara Dale Dunlap on November 28, 1959, and together they raised their two daughters, Dabney Waters (Steve), of Nashville, Tennessee and Dale Crafton of Memphis, Tennessee. Caroline Waters and Ridge and Clayton Roberts are his much loved grandchildren. Also, surviving him are his sisters, Sue Hines (G.A., Jr.) of Conway, Arkansas and Pam Blankenship (Koehler) of Blytheville, and his brother-in-law, Ron Dunlap of Hot Springs, Arkansas and Michael White of Manila, Arkansas who worked with Mr. Crafton for twenty-five years and was a valued friend, not only to him but to his family as well.
Over the years, he enjoyed hunting and fishing at the Blytheville Hunting Club at Mellwood, Arkansas where his father and uncles were original members. Watching the "ponies run" at Oaklawn in Hot Springs, Arkansas was another favorite pastime where the Craftons enjoyed a home on Lake Hamilton.
Mr. Crafton was a member of St. Stephen's Episcopal Church where he had served on the Vestry.
Memorial Services will be Saturday, April 12th, at 3 p.m. at St. Stephens Episcopal Church with Father Scott Trotter officiating. Visitation will be Saturday 1-2:30 p.m. at the church. Carney Funeral Home is in charge of arrangements. Condolences may be offered at www.carneyfunerahome.com.
Published April 12, 2014