Troy Price
Prairie Grove, AR, 1919 - 2014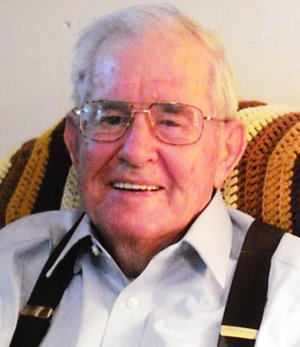 Troy Price of Prairie Grove, Arkansas, passed away peacefully at his home on, Wednesday, April 9, 2014. The youngest of eight brothers and one sister, he was born August 25, 1919 in Cecil, Arkansas to Jesse Dewitt and Orphry Elisabeth Burke Price. He was 94 years old. Troy spent most of his adult life in California. He was master carpenter and a 67 year lifetime member of Brotherhood of Carpenters Union in California and Arkansas. In California he was instrumental in the building of tens of thousands of homes and many schools. He along with his first wife Stella, in their later years were past owners of The Mill Creek Inn in Mulberry, his fishing and trapping skills were known far and wide and his vegetable gardens were the envy of all. His life spanned from mule power to rockets to outer space. He was honorably discharged from the U.S. Navy in 1944. He was preceded in death by his first wife, of sixty years Stella Asher Price; a son, Stephen Ray Price; brothers, Chester, Mitchel, Rufus, Joe, Jesse and two unnamed brothers; one sister, Vinnie Crocker.
Funeral service will be held at 2 p.m., Monday, April 14, 2014 at Fairview Baptist Church in Ozark with Reverend C.G. Fisher officiating with burial at Hight Cemetery in Mulberry, Arkansas, under the direction of Shaffer Funeral Home.
He is survived by his second wife, Ocie Harrell Price; three sons, Jerry Don Price and wife Eileen of Mead, Washington, Billy E. Price and wife Madeline of Elkins, Arkansas and Gene Price of Nicaragua; one daughter, Dorothy Jean Porterfield and husband Wes of Fayetteville; one stepson, Kenneth Harrell of Rogers, Arkansas; eleven grandchildren, sixteen great-grandchildren and two great-great-grandchildren.
Pallbearers will be grandsons, B.R., Robert, Steve, and Scott Price, great grandson, Stephen King and step son, Kenneth Harrell. Honorary will be C.W. and Gaylon Layman.
To leave an online memorial tribute, visit www.shafferfuneralhomeweb.com.
Published April 12, 2014