Brenda Ann Wilson-Braggs
of Little Rock, AR, 1952 - 2014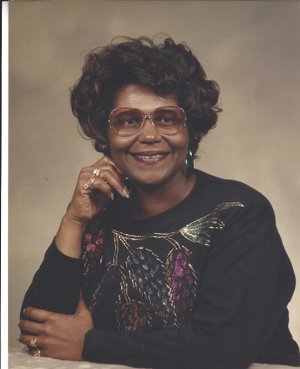 Brenda Ann Wilson-Braggs of Little Rock, born January 4, 1952 passed away April 19, 2014. She was a faithful, active and loyal member of Gospel Temple at the time of her death, She was a graduate of Mills High School, Class of 1970. Brenda was loving, kind, sweet in nature, and a true woman of God. These characteristics were displayed everywhere she went. Brenda loved to travel and looked forward to the annual trips with the family. She was known for her infectious smile, jazzy nails, collection of angels, and her highly anticipated birthday song to everyone she knew. She possessed a genuine love of God, family the church and others that were in her life.
She leaves her precious memories to her three children, Tarsh Lorings Willams, Denton, Texas; Kimberly (Ron) Arnold Young of Little Rock, Arkansas, Brent (LaKisha) Arnold of Duncanville, Texas; a step-son, Gregory Braggs, Jr.; 17 grandchildren; Ebony Lorings, LaTasha Williams, Jason (BreJuna) Williams, Gary Brown, RaKya DeLoch, JaKyra Stewart, O'Rien Godfrey, Regan Young, Raina Young, Matthew Young, Brent Arnold Jr., Brenttin Arnold, Breniyah Arnold, Bre'Anna Arnold, Brookalyn Arnold, Brayden Arnold, Bayleigh Arnold; three great grandchildren, Lauren Faison, Aryce Brown, Kailey Williams; five sisters, Cynthia (Rhodex) Fuller, Phyllis Mosley, Glenda Miller, Wonda Miller, Tracey (Andrew) Shelton; three brothers, Harrell (Shirrell), Mosley, Stevie Austin, and Anthony (Debra) James, Fulton, Md. Brenda was loved by all who came in contact with her and will be missed by five aunts, one very special Aunt Mary Thomas, 17 nieces & nephews, 10 great-nieces & great-nephews, a super host of cousins and all that tenderly called her Ms. Brenda.
Family hour will be held Tuesday, April 22, 2014 from 7-8 p.m. at Gunn Funeral Home. Funeral Service will be Wednesday, April 23, 2014 at 11 a.m. at Gospel Temple Baptist Church, 19415 Highway 365 S., Little Rock, Ark. 72206. Service entrusted to Gunn Funeral Home, 4323 W. 29th, Little Rock, Ark. 72204 (501) 660-4323.
Published April 22, 2014