Charles Albert Taylor
Batesville, AR, 1917 - 2014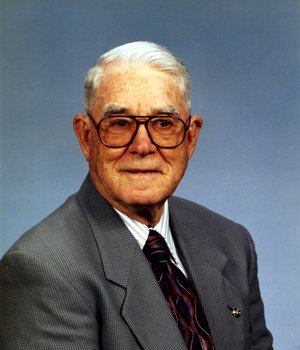 Charles Albert Taylor, M.D., 96, of Batesville died Saturday, April 19, 2014. Born September 18, 1917, in Cave City, Arkansas, he was the son of John Wesly Taylor and Beulah (Chaney) Taylor.
Dr. Taylor graduated from Cave City High School in 1934. He attended and graduated Arkansas College in 1938. He was an accomplished athlete and member of the Arkansas College basketball team, which won the 1938 AAU Basketball Tournament Championship. He taught school and coached basketball in Ash Flat, Arkansas from 1939 until 1941. n 1939, he coached the junior high boys to a state championship in basketball and in 1940, he coached the senior high boys to the state championship finals, finishing as runner up.
In 1944 he enrolled in the University of Arkansas School of Medicine. Dr. Taylor was a distinguished and respected physician in Batesville, Independence County and north central Arkansas for decades. His medical career began with an internship at the Mount Carmel Mercy Hospital in Detroit, Michigan in 1944. In 1945, he became a member of the United States Navy Medical Corp based in Okinawa, Japan. In 1946, Dr. Taylor served a residency in internal medicine and pathology at Baptist Hospital in Little Rock, Arkansas. After completion of his residency he began a private practice in Mammoth Springs, Arkansas until 1948 when he joined the North Arkansas Clinic in Batesville. He was also one of the original staff members of the White River Medical Center upon its founding in 1976.
Dr. Taylor was very prominent in the Batesville- Independence County community; he was a lifelong member of the Batesville Kiwanis Club, awarded the Civitan International "Outstanding Civic Service Award," in 1978, and an inductee into the Arkansas College Athletic Hall of Fame in 1984. He was an avid outdoorsman and horseman. He especially enjoyed quail hunting and training bird dogs. He was beloved by his family who knew him as a son, husband, father and "pappaw". He was a member of the First United Methodist Church of Batesville from 1948 until his death.
He is survived by his wife or 67 years, Rachel Marie (Savaugeau) Taylor, R.N. of Batesville; a son, David R. Taylor, M.D. of Batesville and his wife, Bonnie Taylor, M.D. of Little Rock, Arkansas; a grandson, D. Matthew Taylor of Fayetteville, Arkansas and a granddaughter, Amy C. Taylor, M.D. of Gainesville, Florida; and several nieces and nephews. He was preceded in death by his parents; two brothers, Chaney Wes Taylor, M.D. and Tommy Taylor; and two sisters, Mary Pauline Ellis and Maxine (Ping) Howell.
Funeral services will be at 11 a.m., Wednesday, April 23, 2014, at the First United Methodist Church in Batesville with Rev. Justin Ledbetter officiating. Burial will be in Oaklawn Cemetery under the direction of Roller-Crouch Funeral Home of Batesville. Pallbearers will be members of the Batesville Kiwanis Club. Visitation is from 5-7 p.m., Tuesday, April 22, 2014, at the funeral home.
Memorials may be made to Alzheimer's Disease Research, 22512 Gateway Center Drive, Clarksburg, MD 20871 and the Arkansas Sheriff's Youth Ranches, Inc., P.O. Box 3964, Batesville, Ark. 72503-9989. Online guestbook: www.rollerfuneralhomes.com.
Published April 22, 2014
OBITUARY SUBMITTED BY:
Roller-Crouch Funeral Home
510 College Park, P.O. Box 2576, Batesville, AR
Phone: 870-793-4161
http://www.rollerfuneralhomes.com/