Fannie Mae Forrest
Benton, AR, 1923 - 2014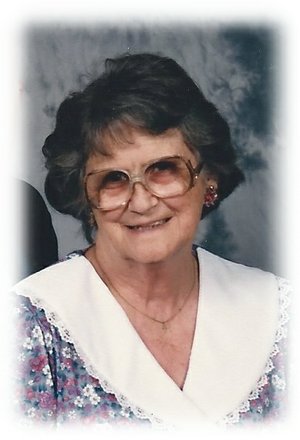 It is with a sad heart that we announce the passing of our Mom: Fannie Mae Forrest. At 91 years of age, Mom went to her heavenly home. Her passing was on Friday, April 18, 2014 at Hospice Home Care after a brief illness. For the past two years she had resided at Mt. Carmel Community Assisted Living. For the previous 60 years, she lived in the Landmark Community.
Our Mom, one of eight children, was born to a farm family on March 17, 1923 at Banks, Bradley County, Arkansas to Raymond C. and Willie Risher Bradford. She grew up in a hard working, loving family, graduated from Banks High School in 1942, and had many fond memories of that time. During her senior year, she met our Dad, Jesie Williard Forrest at an all day gospel singing at Blue Springs and perhaps one of her fondest memories. They married on January 24, 1942. She and Dad led a busy life. He was a career Army Sergeant who served in several areas. After service in the 141st Hospital in Camp Hokata Japan as a Gray Lady volunteer to provide support to wounded young survivor casualties during the Korean Conflict. She was a very dedicated mother to her four children and all of her grandchildren. She was involved in the PTA, served as a room mother, and worked in the school cafeteria. She sold Avon and she participated in various church activities at Landmark Missionary Baptist Church where she was an active member. She loved the Lord with all her heart and never wanted to miss a Bible Study. Perhaps her greatest passion was gardening and we remember all the beautiful flowers and great vegetables and well cooked meals were fruits of her labors.
She is survived by three of her siblings: Sue Bradford Johnson of Houston, Texas; Carolyn Bradford Jenkins of Monticello, Arkansas; and Carlton Bradford and wife, Joy of Hayfork, California. She is also survived by her four children and their families: Fred A. Forrest and wife, Le from Sacramento, California; Jessie A. Forrest and wife, Nancy from Lawton, Oklahoma; Patricia and Ken Waits from Hensley, Arkansas; Paula Kaye Mae and Gary Smith from Troy, Illinois. Grandchildren: Lang and Jason Forrest from Sacramento, California; Kelly Matthes and Rob from Steilacoom, Washington; Alicia Forrest from Lakewood, Washington; Micah Waits and Lynise from Parker, Colorado; Joseph Waits from Hensley, Arkansas; TSgt. Ryan Smith and Shawna from Kyllburg, Germany; SrA Bradley R. Smith and widow, Tiffany Smith from Navarre, Florida; great grandchildren: Matthew White and wife, Sue, baby Kieley from Syracuse, New York; Brittany M. White of Los Angeles, California; Chloe Smith from Navarre, Florida and Sean and Moria Mattes from Tacoma, Washington. Preceded in death by her loving husband of 67 years, Jesie Williard Forrest on May 6, 2006; her siblings, Frances Cottrell, Sybil Davis, Norman Louise Bradford and Lamar Bradford; and grandson, SrA Bradley R. Smith.
Visitation will be Wednesday, April 23, 2014 at Roller-Drummond Funeral Home, 10900 Interstate 30, Little Rock, Arkansas 72209 (501) 455-5800 from 5:30-7:30 p.m. Please call funeral home for directions.
Funeral services will be at Landmark Missionary Baptist Church, 17201 Arch Street, Little Rock, Arkansas (501) 888-2069 at 11 a.m., Thursday, April 24, 2014. Interment following at church cemetery.
Pallbearers: Micah, Joseph, Ralph, Dale, Lang, Jason, Gary and Ken. Honorary pallbearers: SrA Bradley R. Smith (deceased); Tsgt. Ryan Smith and Noel Alsbrook.
Memorials should go to Landmark Missionary Baptist Church Cemetery Fund or Bradley R. Smith Memorial Scholarship Fund.
A heart-felt thanks to those at Hospice Home Care who participated in our mom's care. You are appreciated and your kindness made our life and Mom's last days easier. You are truly God's ministering angels. To Mt. Carmel Community, our mother was so happy to call you home. She loved living there and felt so loved by all of the employees, especially all of her special nurses.
If we could sum up Mom's life in three words they would be Faith, Love and Encourager.
Online guestbook: www.rollerfuneralhomes.com/drummond.
Published April 22, 2014
OBITUARY SUBMITTED BY:
Roller-Drummond / Southwest
10900 Interstate 30, Little Rock, AR
Phone: 501-455-5800