Jarrod Paul Wylie
Leola, AR, 1998 - 2014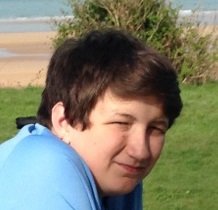 Jarrod Paul Wylie of Leola, Arkansas, is the son of Paul and Cindy Wylie, younger brother to Megan and Lathan Wylie. His paternal grandparents are D.C. and Paula Wylie of Leola, and maternal grandparents are Sandra Bates of Sheridan, Hollie Gilbert of Mississippi, and great-grandmother, Jean McGhee of Sheridan. He is also survived by many very special aunts, uncles, and cousins. Jarrod is preceded in death by his grandfather Richard Bates of Sheridan.
No words can begin to encompass a lifetime of memories, hopes, experiences and emotions. This stands even truer for the life of Jarrod Paul Wylie. None will argue that his life was much too short-lived, but while we had him – or he had us, I should say – we learned more than we ever thought imaginable. Jarrod was born at Baptist Health Medical Center on October 10th, 1998 and passed us by on April 19th, 2014, but the times shared with him will be in our hearts until we meet our Baby J again. He came into the world with a few strikes against him, but several surgeries and years of speech and physical therapy never slowed Jarrod down. I never once saw him question his self-worth or potential, as so many people do. He was always going to be someone great: a class-A heart surgeon, or a billion-dollar inventor. He loved so many things, from camping to computers and everything in between. His hands were never idle, and he never wore a frown. He was one to ask a lot of questions, always building a new invention, or sharing a goofy joke. Jarrod's passing has left us all with shattered hearts, but we will remember him with a grin and a happy tear, and celebrate a life lived in the sunshine of love.
We love you, Baby J.
The family would like to extend their appreciation for all of the love and kindness each of you showed Jarrod, and each of us in the wake of his passing.
Funeral services will be 2 p.m. Wednesday, April 23, 2014 at First Landmark Baptist Church in Sheridan with Bro. Johnie Brewster, Bro. Jim Conard and Bro. Ryan Tarkington officiating. Burial will follow at Leola Cemetery. Visitation will be Tuesday from 5 to 8 p.m. also at the church. Pallbearers are Jack Jumper, Brinson Williams, Ty Kosters, David Rainwater, Nick Whitley, Brady Bibb, Kade Robertson and Luke Hill. Memorials may be made to Arkansas Children's Hospital, 1 Children's Way, Little Rock, Arkansas 72202. Arrangements by Memorial Gardens Funeral Home of Sheridan (870) 942-1306. To sign the online guestbook, www.memorialgardenssheridan.com.
Published April 22, 2014
OBITUARY SUBMITTED BY:
Memorial Gardens Funeral Home
2686 Hwy 167 North, P.O. Box 540, Sheridan, AR
Phone: 870-942-1306