Margaret F. Mitchell
Hot Springs, AR, 1930 - 2014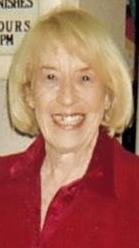 Margaret F. Mitchell (Marge), 84, of Hot Springs, Arkansas, passed away Tuesday, August 12, 2014. She was born January 28, 1930 in North Carolina, to George Francis and Froy (Martin) Noe.
Marge was a long-time member of Hot Springs Baptist Church. She was a employed as a Mental Health Nurse for ten Years; Track Nurse at the Race Track for thirty-two years; and the Arkansas Department of Human Services for 35 years before retiring at the age of 80. Marge belonged to the Virginia Clinton Kelly Birthday Club, Beta Sigma Phi, Sewing Club, Bridge Club and was on the Board Of Directors for the Our Promise organization. She was an avid Razorback fan and loved fishing and being on the lake. Since her retirement, her cat "Baby Girl" has been the love of her life. Marge was loved by many and will be greatly missed.
She is predeceased by her parents and her husband William (Bill) R. Mitchell.
Marge is survived by her daughters Vicki Fletcher and Paige Rix; four grandchildren Mimi Bell, Will Rix, Mariellen Fletcher, and Michell Fletcher; four great-grandchildren Austin Guthrie, Brennan Dorrell, Daniel Beavers and Kayden Bell.
Honorary pallbearers include President Bill Clinton, Darren and Darrell Davis, Arkansas State Employees of DHS and Oaklawn Race Track. Pallbearers include Rob Bell, Dan Lemm, Forrest Fletcher, Roger Clinton, Bob Searcy, Felix Ortiz and Will Rix.
Visitation will be from 5-7 p.m. Thursday at Caruth-Hale Funeral Home. Service will be at 10 a.m. Friday at Caruth-Hale Funeral Home with Pastor Mike Smith officiating. Burial will be in Greenwood Cemetery.
The family wishes to express special thanks to Quapaw Nursing and Rehab, The Pines Nursing and Rehab, St. Vincent Medical Center, Arkansas Hospice, Dr. Timothy Webb and Dr. Amy Reeves. Guests may register at www.caruth-hale.com.
Published August 14, 2014
OBITUARY SUBMITTED BY:
Caruth-Hale Funeral Home
155 Section Line Road, Hot Springs, AR
Phone: 501-525-0055
http://www.caruth-hale.com