Claudia Mann Mason
Malvern, AR, 1914 - 2014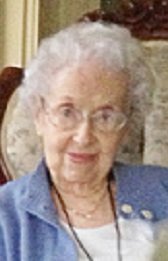 Claudia Mann Mason, 100, of Malvern, died August 13, 2014, at her home. She was born in Malvern on May 12, 1914 to the late Claude Mann and Besse Blackman Mann. Reared and receiving her early education in Malvern, she graduated cum laude from Ouachita Baptist University in 1936. Claudia went on to teach home economics for two years before she married her longtime beau, John Wesley Mason Jr. (J.R.) in 1938. He was killed in a tornado in 1982, and Claudia lived the next 32 years relying on her faith in God, her church family, and her friends to get her through this life. She was christened as an infant in the First Methodist Church of Malvern, and was, throughout her life, a faithful member, teaching Sunday School, leading church circles, and doing anything else she could do. Both she and her husband were members of the church choir, and Claudia's voice was so beautifully trained, that she was sought after to sing at various events. She was a gifted artist. She painted with oils on canvas, and produced beautifully painted china pieces which she shared with family and friends. Claudia was a prayer warrior, and those who knew her best figured she had a "direct line" to her Lord and Savior. Never having children of her own, she doted on her nieces and nephews and the children of her friends and church family. Affectionately called "LaLa," she was an inspiration to many and a friend to all, both young and old.
She is survived by numerous nieces, nephews, great-nieces and –nephews, and by her many friends.
Her funeral will be in the sanctuary of First United Methodist Church on Saturday, August 16, 2014 at 1 p.m. in the afternoon with Reverend LaVon Post officiating. The Chancel Choir of the church will honor LaLa by singing one of her favorites, "Joy in the Morning." Her dear friend, Mae Vaden will sing "Amazing Grace."
Pallbearers are: Chris Walthall, Ron Parsley, Matt Williams, David Gregory, Craig Bridgers, and Tommy Atkinson. Honorary pallbearers are: Dr. Larry Brashears, Dr. Steve Efird, Sam Kilgroe, Friday Morning Girls, Stanley Whitlow, Phillip Nix, and John Allan Funk.
Following the funeral ceremony, she will be buried next to her beloved J.R. at Shadowlawn Cemetery under the direction of J.A. Funk Funeral Home. Memorials may be made to First United Methodist Church, Malvern. Online condolences may be sent via jafunkfuneralhome.com.
Published August 15, 2014
OBITUARY SUBMITTED BY:
J. A. Funk Funeral Home
318 Ash , Malvern, AR
E-mail: ptieear@swbell.net
Phone: 501-332-4625