Ravonell J. Sweeten
Mount Vernon, AR, 1926 - 2014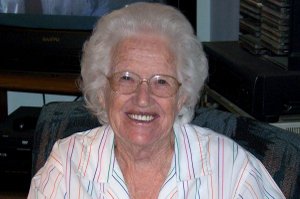 Ravonell J. Sweeten, 88, of Mt. Vernon, Arkansas passed away November 30, 2014. She was born February 5, 1926 in Enola, Arkansas to the late William McNinch and Minnie Keathley McNinch. Ravonell was a lifetime member of the Church of Christ. She enjoyed making quilts and spent much of her free time quilting. Ravonell also enjoyed vegetable gardening and canning.
Ravonell was preceded in death by her husband of 58 years, Herbert Franklin Sweeten, and one daughter; Anita J. Thompson. She is survived by six sons; Franklin H. Sweeten (Virginia) of Greenbrier, Dennis O. Sweeten of Rose Bud, Randall A. Sweeten of Jacksonville, Steven W. Sweeten of Greenbrier, Bert N. Sweeten (Terri) of Cabot, and Timothy A. Sweeten of Mt. Vernon, three daughters; Teresa Ingram (Jim) of Jacksonville, Darlene Ables of Jacksonville, and Anna Poole of Jacksonville, as well as twenty two grandchildren, twenty six great-grandchildren, and nine great-great-grandchildren.
Funeral services will be held at 1 p.m. Thursday, December 4, 2014 at Roller-McNutt Funeral Home in Conway. Visitation will be held from 6 p.m. to 8 p.m. Wednesday, December 3, 2014 at the funeral home. Interment will follow the service at Brown Cemetery in Enola. Serving as Pallbearers will be Ricky Berry, Heath Sweeten, Ashley Sweeten, Chris Sweeten, Josh Hall, and Michael Payne. Online guestbook: www.rollerfuneralhomes.com.
Published December 3, 2014
OBITUARY SUBMITTED BY:
Roller-McNutt / Conway
8th and Vine, P.O. Box 249, Conway, AR
Phone: 501-374-2731