Phala Dean Staley
Yuba City, CA, 1923 - 2014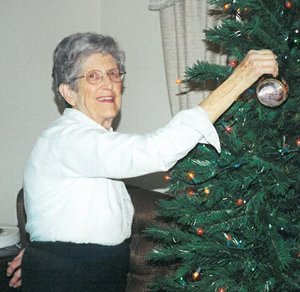 Phala Dean Staley, age 91, of Yuba City passed away peacefully on Nov. 27, 2014. She was born on Sept. 23, 1923 in North Little Rock, Ark. to Elmer and Addie Lee (Phillips) Lendermon. Phala was a homemaker for many years.
She was preceded in death by her beloved husband of 40 years, Charles M. Staley. Phala is survived by her two sons, Charles S. Staley and Terry D. Staley (Cindy), both of Yuba City, Calif.; three grandchildren, Joshua Staley of Yuba City, Calfi., Carrissa Nunes of Marysville, Calif. and Heather Dale of Placerville, Calif.; two great-grandchildren, Shasta Gates and Conner Nunes, both of Marysville, Calif.; nephews, William Lendermon, Ricky Lendermon and Walter Staley, all of Arkansas; nieces, Christina Cavander of Grass Valley, Calif. and Valerie Beall of Arkansas and numerous cousins in Arkansas.
Friends are invited to visit on Thursday, Dec. 11 from 4 p.m. until 7 p.m. at Sierra View Mortuary. Funeral services will be held on Friday, Dec. 12 at 1 p.m. at the mortuary, with committal to follow at Sierra View Memorial Park. Sierra View Mortuary is assisting the family with the arrangements.
Published December 8, 2014